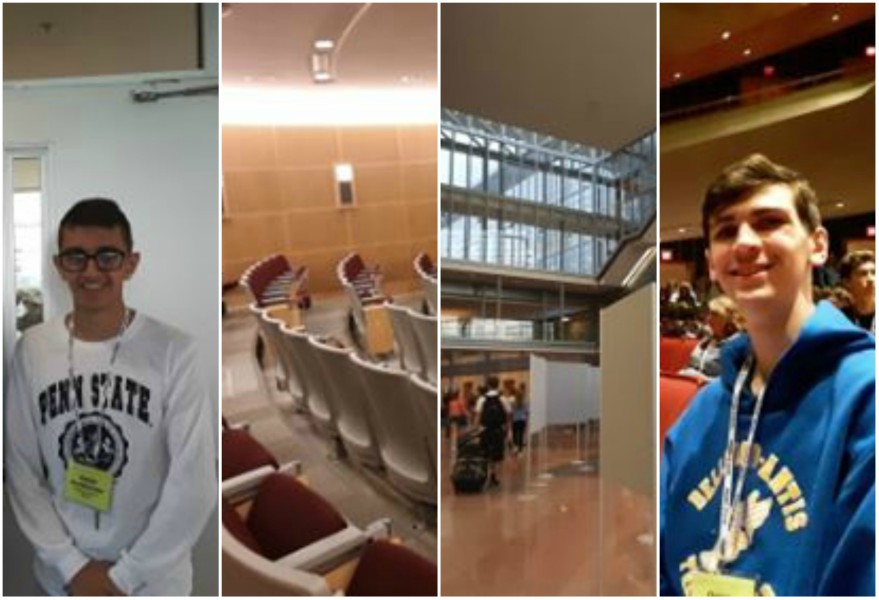 The Pennsylvania Junior Academy of Science, or PJAS, ia an organization that BA participates in every year. Students come up with a science experiment, perform it, and then present their findings in front of a panel of judges at regional and state competitions. Awards given out aren't 1st, 2nd, and 3rd; instead there are Director's Awards and 1st awards that can be given out to multiple people, but are very hard to obtain.
This year the advisor from BAHS, Ms.Shimmel, had two students go to states and get these prestigious first awards: Quintin Nelson and Daniel Kustaborder.
Quintin's project was on quantum tunneling. He looked at how dimensions of a barrier affected the probability of a particle being able to tunnel through the barrier. His findings won him a 1st award at regionals as well as the Director's Award for High School Physics, a 1st award, and a perfect score at states. A perfect score is pretty much unheard of, but Quintin says he was expecting it. "I was actually trying for a perfect score," he said. He explained what kept him from getting that score at regionals, "The only thing that kept me from a perfect score was talking too fast. I trimmed my presentation down so I could talk slower."
Quintin's time with PJAS has been good and he looked back on it with fondness. He says he loved PJAS and everything it had to offer. "I enjoyed the experiments, but the experience, especially at the state meet, has been awesome."
Daniel's project was in engineering and involved lots of physics. He used the application of friction from sandpaper to slow down Hot Wheels cars. He then used kinematics equations to figure out how much sandpaper was needed to get the car to go as slow as possible.
This project won him his second 1st award, his first being in sophomore year. "Winning the 1st award this year felt really good because I didn't make it to states last year," he said.
Daniel's experience in PJAS has also been a rewarding one. He went on to say how much this experience will help him in his future. "It will definitely help in my STEM courses in college. It should be easier for me to do research especially in my engineering classes."
So, congrats to the boys on their wins this year!
And if you find science and math interesting, why not stop in to see Ms.Shimmel and sign yourself up for PJAS. Maybe you could win something too.