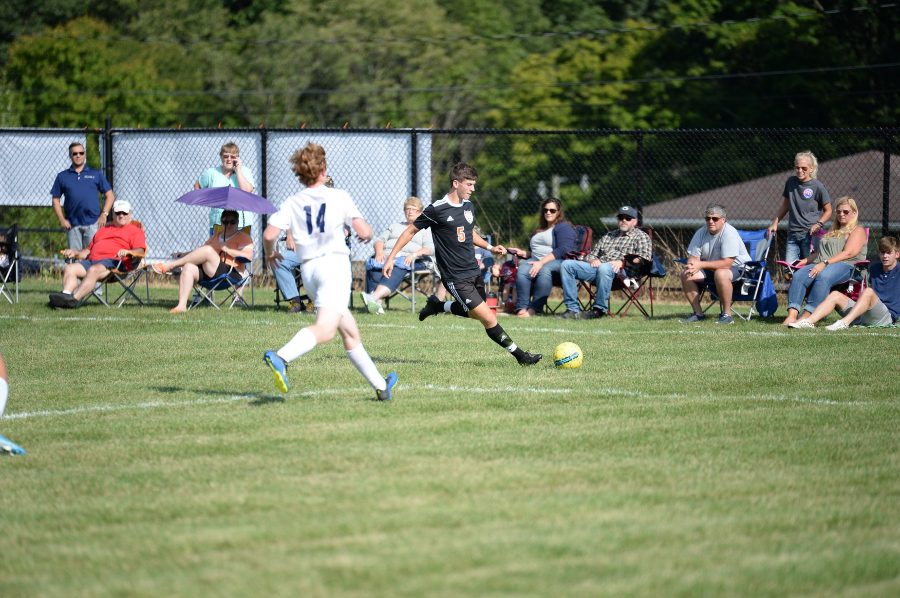 Terry McCaulley
The Tyrone/Bellwood-Antis co-op soccer team squeaked by Mountain League opponent Bellefonte at Rogers Stadium on Thursday, winning by a score of 2-1.
Corey Johnston netted his 5th goal of the season in the first half to take the lead early, and then Bellefonte evened it up.
Tyrone's Nick Vasbinder scored the second goal for the Golden Eagles, and they were able to shut down Bellefonte the rest of the match behind goal keeper Alex Roberts to get the win.
"The game was much closer than we wanted it to be, but good teams find a way to win," said Roberts.
The co-op soccer team has now won two in a row, and they look to keep on rolling. 
"Going into the weekend with two wins is obviously a good feeling," said Coach Alex Bartlett. "However, we can definitely play better. If we just buy into the instruction from the coaches and each other more than we already have, teams should be scared to play against us because of our confidence."
Volleyball team evens record
The Bellwood-Antis Lady Blue Devils volleyball team found a way to bounce back from a devastating loss to West Branch, by beating ICC opponent Williamsburg last night in three straight sets.
The Lady Devils absolutely dominated the Lady Blue Pirates, as the sets went 25-7, 25-12, 25-12 again.
Bella Kies lead the team in kills with 10, and senior setter Sydney Lechner had a game high 23 assists for the Lady Devils.
The Lady Devils volleyball team will be looking to improve their record to above .500 as they play host to Everett on Tuesday.