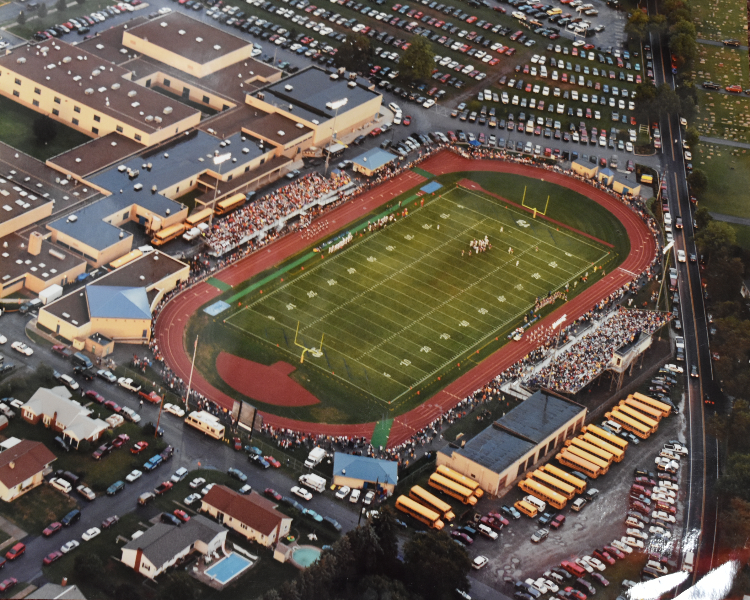 Courtesy Photo
October 25th, at halftime of the last regular season football game, Memorial Stadium will change forever.
The Bellwood-Antis school board voted earlier this month to approve a new name for the football and track facility, honoring the man who made the field in its current form a reality. The school board had a decisive vote, voting 9-0 to change the name.
The stadium will now be called John R. Hayes Field at Memorial Stadium.
Hayes, who coached football at Bellwood-Antis for more than 30 years, retired as coach and Athletic Director in 2018.
"I think naming the field after him is a great thank you by our school for all the hard work, dedication, and love that he had for our school district. As he so often said at football practice, 'It's a great day in Central PA'; I am pretty sure he will feel like that on the dedication day," said head football coach Nick Lovrich.
Athletic Director Charlie Burch said Hayes' decades of dedication to Bellwood-Antis athletics warrants this honor.
"I am 100 percent in full support of naming the field after Coach Hayes. I could not think of a better honor and a more deserving person. He dedicated 38 years of his life to this school. His success as a coach and Athletic Director was amazing," said Mr. Burch.
According to those who played for him and coached with him, the impact Coach Hayes had wasn't just on football,or sports in general. He had a huge impact on the entire school and kids there.
Coach Nick Lovrich can't speak more highly of coach Hayes and his impact through his career at B-A.
"His impact on our whole school district is immense. As athletic director, he was instrumental in upgrading our facilities including the new stadium, weight room, and baseball-softball buildings. He was always such a big supporter of all our sports. He oversaw our athletic department during a period where we had so much success," said Lovrich.
Throughout all of his career at B-A, Coach Hayes had had tremendous success as a football coach. Hayes, who coached at B-A since the 1980 season, is responsible for turning the B-A football program into one of the most consistent in the commonwealth. In the 38 years of Hayes' leadership at B-A, the Blue Devils had 34 winning seasons (two others were an even 5-5 split), three PIAA final fours, 19 ICC titles, and 6 district championships. His teams compiled undefeated regular seasons six times.
"As a football coach he won more games than any football coach in Blair County. He has won championships and coach of the year awards, but his biggest success is the development of our student athletes into successful adults," said Cooach Lovrich. "So many people comment about the impact he had on their lives, not just in sports, but in life lessons that he taught them. He has not only been recognized by B-A for his work, but also by others. This summer he inducted into the PA Football Coaches Association's Hall of Fame. Coach Hayes was always a leader in that organization."
Coach Burch said he is glad that Hayes will be recognized for years to come.
"This level of dedication and success could be unparalleled for generations. It could be acknowledged by a community forever," he said.