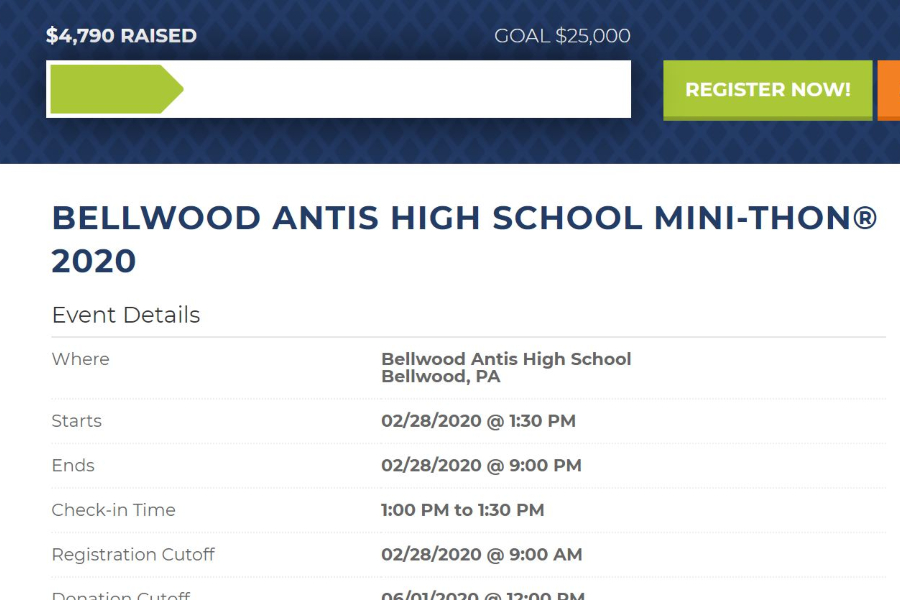 Maria Cuevas
Maggie Erickson, a Bellwood-Antis senior, is currently the top fundraiser for the 4 diamonds mini-THON event scheduled for Febuary 28.
Maggie has a goal of raising $1,000 and currently  has $755. After Maggie, Anna Lovrich has raised $751 towards a goal of $800. In third place, Dailyn Hampton has a goal of $500 and has raised $455.
Those interested can access the leader board on the B-A Donor Drive web page.
All proceeds go to the four Diamonds Organization, which raises money for families dealing with childhood cancer.
"Student donations are crucial for us to meet and exceed our goal," Says Mr. Stewart
Students can help donate to Minithon by signing into Donor drive and raising money. In order to receive a shirt for Minithon, students need to raise at least $15. Students still have plenty of time to gather donations.
"There are a lot of people signed up on Donor Drive who haven't raised anything and we still have $5,000. If everyone could just get to at least $20, it would help us exceed our goal. I'm really excited to see how much we can raise." Says Maggie.
"We are constantly seeking more students to participate via Donor drive and by helping out with various tasks with the Minithon committee."
If students would like to get involved aside from monetary donations, they can contact Mr. Stewart or Mr. McNaul to help set up or clean up after Minithon.
The mini-THON committee is attempting to match or exceed last year's total of $25,000. In 2018, the event raised $15,000, giving the group of 2-year total in excess of $40,000.