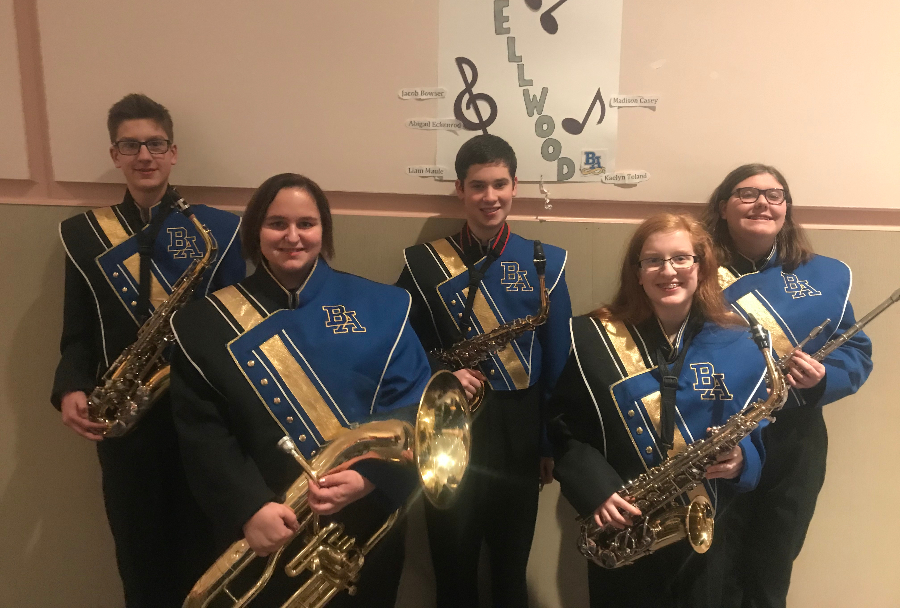 Courtesy photo
Five Bellwood-Antis students attended the Junior High County Band Festival at Hollidaysburg Area Junior High last Monday and Tuesday.
The five musicians included, in 9th grade, Kaelyn Toland (Alto, Saxophone), Jacob Bowser (Alto, Saxophone), Madison Cassidy (Baritone).
The other students were 8th graders Abigail Eckenrod (Flute and Piccolo) and 7th grade, Liam Maule (Alto, Saxophone).
"I was very impressed with my student's discipline and achievements throughout the festival," said band directory Mr. Patrick Sachse. "The guest director was an energetic and talented musician, and also gave great insight about diversity and encouraged students to 'Embrace your Uniqueness.' It was a fabulous festival."
Lori Schwartz Reichl was the guest director. She has culturally diverse experiences of building and maintaining secondary band programs. Her career has transformed into serving as an active adjudicator, author, clinician, conductor, instructor, and speaker.
Ms. Reichl has a Bachelor of Science in Music Education from West Chester University, Master Music Education from Lebanon Valley College, and Administrator I Certification through McDaniel College.