Four wrestlers place at districts
Pellegrine finishes second at 285 to lead the pack
Senior Evan Pellegrine finished as runner-up at the 285 weight class Saturday at the District 6 2A wrestling tournament at the Altoona Field House.
"I could have done better but it was exciting to be the first person from Bellwood to place that high in nine years," said Pellegrine. "All I am focused on now is making it to states."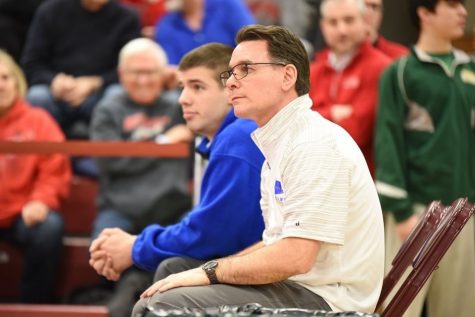 Pellegrine lead four other B-A wrestlers who made it to the regional tournament, those wrestlers were Alex (160) and Aiden( (152) Taylor, Dominic Caracciolo (195).
"I'm so proud of Evan, Aiden, Alex and Dominic and the whole team," said B-A coach Tim Andrekovich. "I had a good feeling about all four of them making it to regionals and they all wrestled great over the weekend to move on. I was told it's the first time that we've ever taken four wrestlers to regionals, and that's a tribute to these guys putting in the extra time on the mat and in the weight room in the off season. The team took eleventh place, which is great, too. A few more wins and we would have placed in the top 10."
Evan came into the tournament as the 3rd seed. He had to wrestle a big match against second-seeded Max Younko from Westmont Hilltop in the semi-finals. The score of the match was 5-1.
Aiden Taylor was the next highest placer in 4th place. Alex Taylor and Dominic Caracciolo both won their final matches to finish in 5th place.
The Southwest Regional tournament begins Friday. Six wrestlers from each weight class advance to the PIAA championships in Hershey.
"We will be working out with Altoona for a few days, get to IUP on Friday and give it all that we got in order to get to Hershey," Coach ANdrkovich said.