2 wrestlers make it to states
Over the weekend, junior Alex Taylor and Senior Evan Pellegrine qualified for the state tournament wrestling tournament with top five finishes at the Southwest Regional Tournament at Indiana University of Pennsylvania.
"It feels great to be heading back to Hershey again this year," said B-A coach Tim Andrekovich, who helped Trenten Whaley make it to the PIAA tournament last year. "I'm so proud of Alex and Evan. They both wrestled really well over the weekend. Even in the matches that they lost, they were in them. The guys were competing and that's all that we can ask for."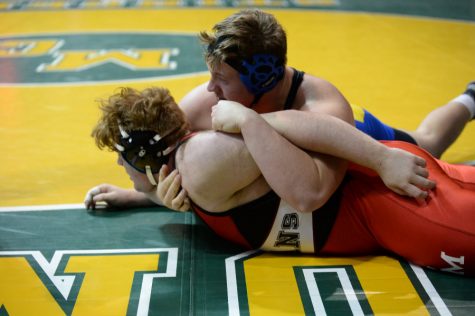 Aiden and Dominic did a great job too. This is something that they can build off of for next season.
Taylor placed 4th at 160 pounds. He won his first two matches to make it to the semifinals but lost 7-2. He would then get a pin in the consolation semifinals, but lose 5-0 in the  third-place match.
Pellegrine placed 5th at 285 pounds.
After winning his first match, he then lost in the quarterfinals. He would then go on to win in the consolation in round 2 and round 3, but lose in the consolation semifinals. Pellegrine would end his day with a pin in the 5th place match.
"This  has been a goal for me since I started wrestling in seventh grade," Pellegrine said. "I think I have a shot at placing (at states). They say our regional is one of the toughest in the state, so if you make it through our regional you should do well at staes. I want to compete, I can't just go and enjoy it."
"It is a turn around season for the program. Having 4 make it to regionals and 2 at states."
The team placed 23rd out of 63 teams at the South West regional tournament.
B-A had two other representatives at the regional tournament, but Dominic Caracciolo (195) and Aiden Taylor (152) did not place.
The state tournament will be on March 5th, 6th, 7th.