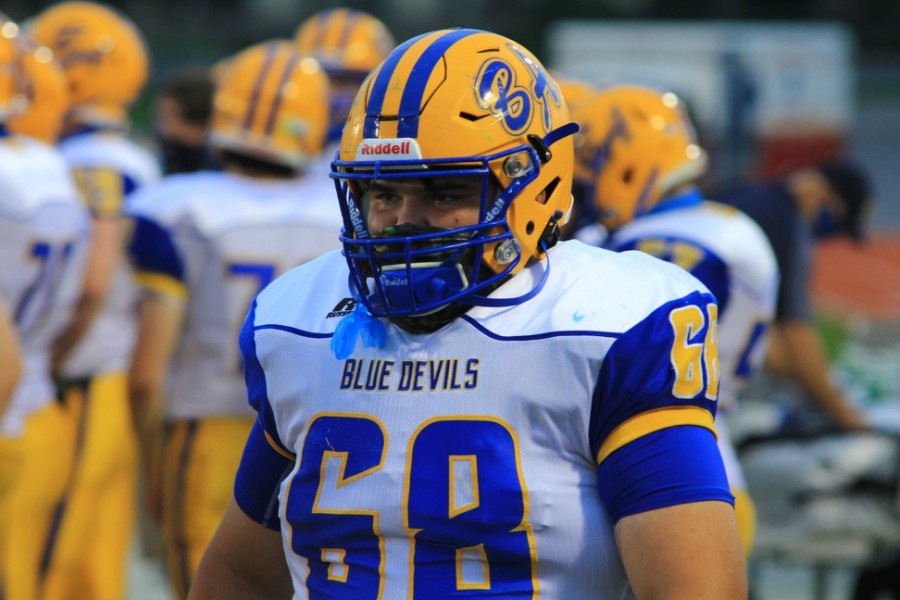 Jeff Miller
If you come to a Bellwood-Antis football practice, at first glance it will look like a regular practice but if you look closer, that couldn't be farther from the truth. Athletes are wearing masks and it's 90 degrees out. They can take them off to play, but when the players come off the field, they must put the mask back on.
According to  state recommendations, coaches, athletes, and spectators must wear face coverings unless they are outdoors and can consistently maintain social distancing of at least six feet. Athletes are not required to wear face coverings while actively engaged in workouts and competition that prevent the wearing of face coverings, but must wear face coverings when on the sidelines, in the dugout, etc. and anytime sicx feet of social distancing is not possible.
"Although masks are uncomfortable, it is what the department of health is telling us; it will keep people safe," said Mr. Richard Schreier, who along with his duty as high school principal is also an assistant on B-A's football coaching staff.
Mask guidelines, specifically for schools, have changed over time since the lock down for the COVID-19 pandemic began in March. All summer the school was battling the change in language. "Cloth face covers are said to be the best but any face covering, mask, or shield that covers the mouth and nose are acceptable," Mr. Schreier said. "If we wear our mask, we can reduce the potential spread of air borne illnesses that could spread viruses. It will not eliminate the possibility but will greatly reduce them."
When players are at rest or not physically engaged they must have a mask on. Mr. Matthew Elder is a junior high soccer coach and he said he does not mind the masks and it does not change anything he does as a coach. Whatever he and the team must do to have a season, they will do.
"No one thought they would have a season, and we will do anything so that we can," he said.  "The Masks are helping us a lot. If someone on the team gets COVID-19, it's a 14-day quarantine for the whole team. When we quarantine, it's no games, no practice; that means we will have nothing."
Mr. Nick Lovrich, the varsity football coach,  said, "It is not very fun to wear a mask all day in school and then practice, but if we can be back in school and playing football it is worth it."
He said the masks were the easy part. The team had to do a lot of planning and changing of normal routines to comply with new regulations. There are now fewer people in locker room, the football players bring their own drinks, and there is a lot more cleaning.
The cross country team also went through some changes to abide by  COVID-19 recommendations, as did the volleyball team, which has had its fan support severely curtailed by indoor seating regulations, which limit the gym capacity to 25 people, including players, coaches and officials.
Under those circumstances, the mask requirement isn't such a big deal.
"It can be a little weird," said Raven Criscitello. "We don't have to wear them playing, which is when we might come in contact with each other, but no complaints."