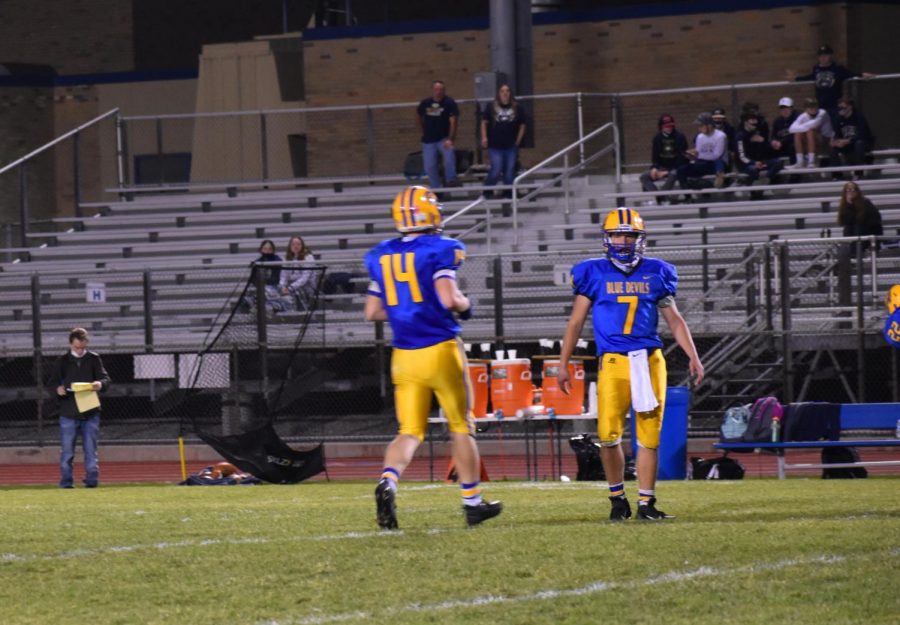 Kerry Naylor
Junior Zach Pellegrine is the starting quarterback of the Bellwood-Antis football team, and this is his first year starting.
The Blue Devils are more of a run-heavy team, but Pellegrine has done well throwing the ball with the opportunities he's been given. The big question was how Zach would do in his first playoff start. He delivered a solid performance.
For his efforts, the BluePrint has named Zach this week's Athlete of the Week.
Bellwood faced off against Bald Eagle Area in the first round of the District 6 2A playoffs. The Blue Devils knew they'd have to throw the ball more than normal to win and  Zach was able to put together his best game of the year, completing 11 of his 14 passes for 107 yards and 2 touchdowns. He also had a heads up run on a fourth down to keep the Blue Devils driving in the second half. 
The Devils went on to win 35-21.
"It felt good," Pellegrine said. "There's still a lot of things we need to improve on, but it felt good to get the win."
Bellwood now advances to the district semifinals where they'll play Richland, the defending D6 champs. Zach and the rest of the Blue Devils are pumped up for this game.

"We knew to reach our goal of winning a district championship we'd have to play Richland at some point," Pellegrine explained. "We treat every week like our state championship."
The Rams have a strong and athletic team, and Bellwood will have to be sharp in the passing game again this week. Zach is confident the Blue Devils will continue with their success through the air. The team has done a lot of offseason throwing and workouts to get ready for big games like this.
This season, Zach has completed over 60 percent of his passes for 409 yards and 6 touchdowns. 
"Zach has been very steady for us all year," said Coach Nick Lovrich. "He has made the throws that we needed him to make all year.  Friday night was his best game of they year so far.  He has really developed as the year has gone on and we are looking for him to continue that as the season moves along."
Bellwood is quite familiar with this semifinal round of the district playoffs. They've been knocked out in the semifinals the past two seasons, with the most recent being their heartbreaking 21-20 loss to Ligonier Valley last year. There is a lot of hype surrounding this match up with Richland. Players are determined to win and have a district championship birth.
It will be interesting to see if Pellegrine and the Blue Devils can continue with their winning ways.