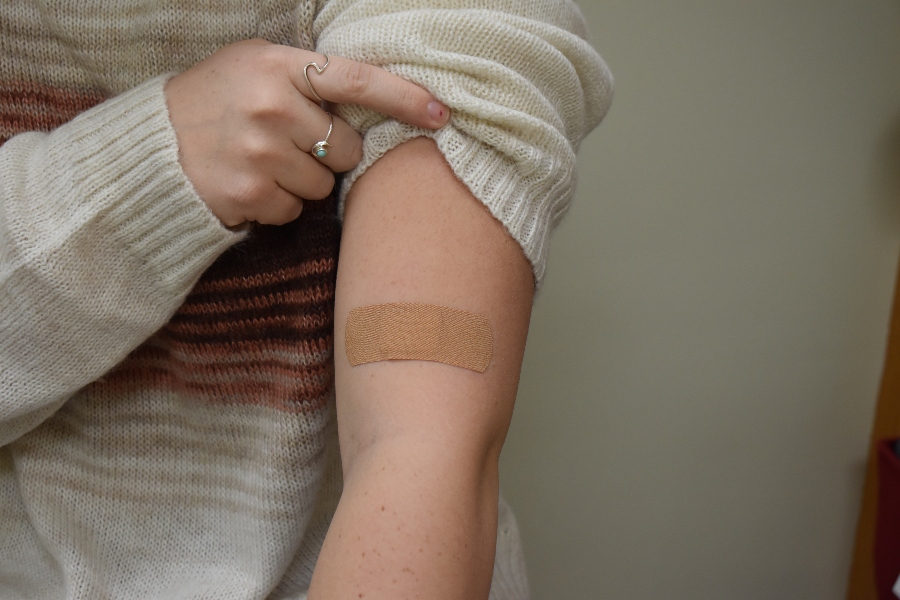 Haley Campbell
With new  COVID-19 vaccines being distributed across the country, students, parents, and school administrations are all asking the same question, "Should students be required to get the COVID-19 vaccine to return to school?"
The COVID-19 has affected school for almost a year now, with little hope of school returning to normal any time soon, so vaccination is a legitimate question. However, Superintendent Dr. Tom McInroy has expressed his opinions on coming back to school "normally."
"The vaccine is one of many tools that our community will need to use for us to get back to normal. Even with the vaccine, we will still need to wear a mask and practice good hygiene," Dr. McInroy explained. 
Because of how quickly both the Pfizer and Moderna vaccines were approved for US consumption, among other factors, people across the country have expressed their concerns and said that they will not be getting the vaccine. School nurse, Kelly Hoover, believes that this might be part of the reason why it will be hard to make the COVID-19 vaccine required for students. 
Mrs. Hoover believes that "getting the vaccination will decrease the number of cases; however, there are people who do not believe in the vaccine and will refuse to get it," she continues by saying that "we should return to normal as much as possible and continue with the preventative measures put into place." 
As of right now, students are required by the Department of Health to get 7 different vaccines throughout their years of schooling. However, these vaccines have been tested very thoroughly, they are accessible, and the long term effects of these vaccines are known. The COVID-19 vaccine came out within a year, no one knows how long it will take for the vaccine to be easily accessible to all, and there are concerns raised about the long term effects of such a new vaccine. 
Regardless of the fears and personal beliefs of others, many people are eager to get the vaccine such as many political leaders, healthcare workers, and teachers. 
"With this vaccine, I see a light at the end of this long tunnel. I am very excited that teachers are in the next wave and I am so ready to get my vaccine," Ms. Clippard explained.  
The fate of the COVID-19 vaccine being required at Bellwood is something that is too early to call. Some people think it is a hard no and others think there is a strong possibility that it will be required in future years. 
"I am not sure what will happen in the future. There are many factors that will need to be considered before a decision is made," Dr. McInroy explained.