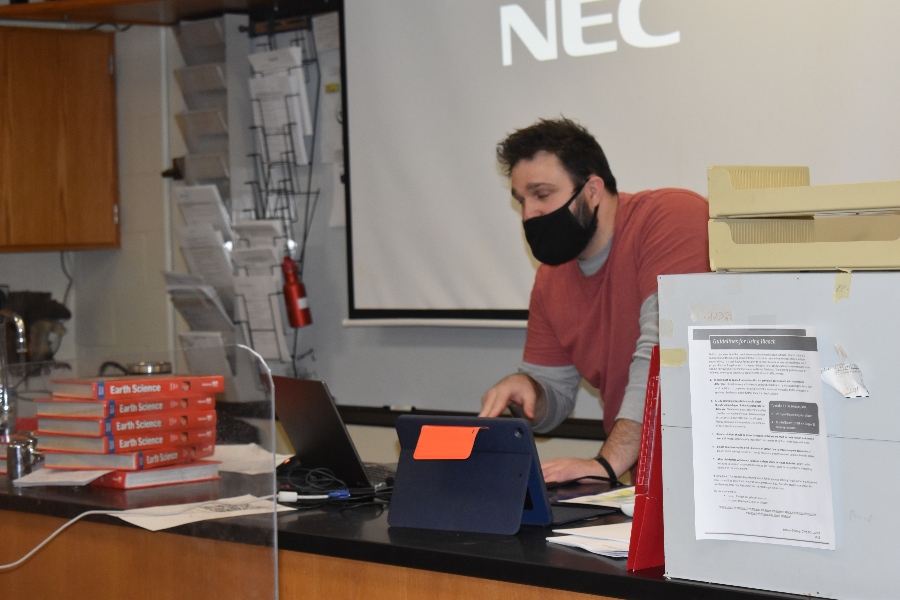 Haley Campbell
Being a teacher is difficult. Becoming a teacher at a new school in the middle of the year is even more difficult.
Add on to that the fact that the whole world is in a global pandemic and your responsibilities include monitoring freshman lunch and you have what Mr. Kane has to deal with during his time substituting at Bellwood. 
Mr. Kane is the long term substitute who has been put in place to teach the freshman earth science classes while Mr. Goodman takes a sabbatical. Earth science was a topic that Mr. Kane enjoyed a lot during school, so naturally he decided to teach it. 
Beginning to teach in the middle of the school year can be tough, but Mr. Kane is excited to get to know the students and create fun activities for them to learn the material. 
Though Mr. Kane has been substituting for five years, that is not where his experience with teaching ends. He is also a father of two. On top of that, Mr. Kane also explained that he teaches his wife about tech stuff because "she can't figure anything out." 
Mr. Kane has never worked in Bellwood before, but he did live here before moving to Tyrone. Mr. Kane was a district substitute there for several years, as well as the junior high wrestling coach.
Mr. Kane enjoys the small town feel of Bellwood, but that's not the only reason he took on this position. Mr. Kane and Mr. Goodman actually live on the same road as each other near Spruce Creek so Mr. Kane knew that Mr. Goodman's spot needed to be filled. 
"He gave me a freezer to repay the favor," Mr. Kane explained. 
Three of the biggest issues Mr. Kane will face this year are COVID-19, adapting to teaching virtual students as well as in person students and the freshman lunch duty. However, he doesn't seem too concerned about either one of these challenges. 
"I will have to get used to talking to the students at home and it will be an adjustment, but I am excited to be monitoring freshman lunch. I'll be able to get out of the room, walk around, and talk to Mr. Naylor." Mr. Kane jokingly went on to say, "and I don't think the students want to talk to me during this period."