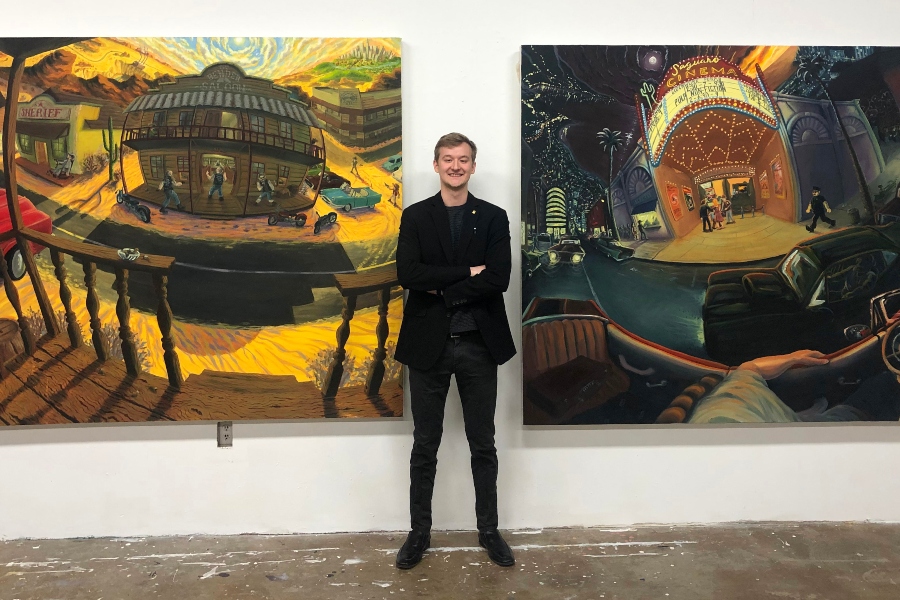 Throughout high school, 2015 grad Joe Beam could always be seen with a pencil in hand, ready to draw on anything. 
However, even with such a strong artistic vision, Joe had no idea of the successes art would bring him, from art galleries to a collaborative clothing line.
At age 10 Joe's father gave him a book by M.C. Escher, and that simple gift changed the course of his life. Escher is known for his technical abilities and mind-bending imagery.
"He is my biggest artistic influence! A lot of the large paintings I create now have plenty of Escher's influence in them, with fisheye perspectives and intense composition," says Joe.
In a competitive profession, nothing seems to be holding Joe back. He was included in several juried shows, even winning a Merit award/scholarship from the most recent show he entered. Beam also had his own solo show, and a collaborative clothing line featuring my art.
Although pursuing a career in art was never Joe's original plan, he now has goals going forward.
"I would like to freelance commissioned artworks while I pursue the Gallery scene in a bigger city, ideally out west.  Once I have a few years of Artistic practice under my belt, I plan on applying to a Graduate Program to further my academic knowledge, while gaining the certification needed to be a Professor of the Arts at a University somewhere," Joe said.
Even when the pandemic shut down most public events, Joe has continued to prevail.
"Right now, the art world looks a bit strange, galleries have moved online for the most part, but I was able to have a few exhibitions before March 2020.  The show I am most proud of would be my first solo show titled "WARPED" which can be seen on my website.  I created several larger-than-life paintings under the same theme of "warping perspective" to create the scenes.  I also am a featured Artist on Pop Up Galleries, an online gallery run by a peer from Penn State.", Joe said.  
Visit this website at, https://www.popup-galleries.com/artists
However, even with his successes, Joe continues to appreciate how Bellwood has helped him grow. Joe says, " Without Bellwood, I am not sure I would have gained much confidence in my artistic abilities. There were so many supportive faculty and peers in my time there that I always felt fine putting in the work to become better at art, even though I did not initially think I would pursue a career in it."
Joe also paid a special thanks to an unlikely artistic influence. "I also must thank the amazing Industrial Arts program run by the one and only Mr. Crowell.  Because of his instruction, I can make better wooden canvases than anyone else I know!"
The best way to follow Joe and his art is through his Instagram where he posts all his new pieces and commissions. His Instagram handle is @boejeam. Joe also has a website where you can see the pieces all together in a more organized format.  You can also find Joe's collaborative clothing line, show retrospectives and more at joebeamart.com!
Joe has undoubtedly made Bellwood proud, and we wish him luck in continuing his goals.