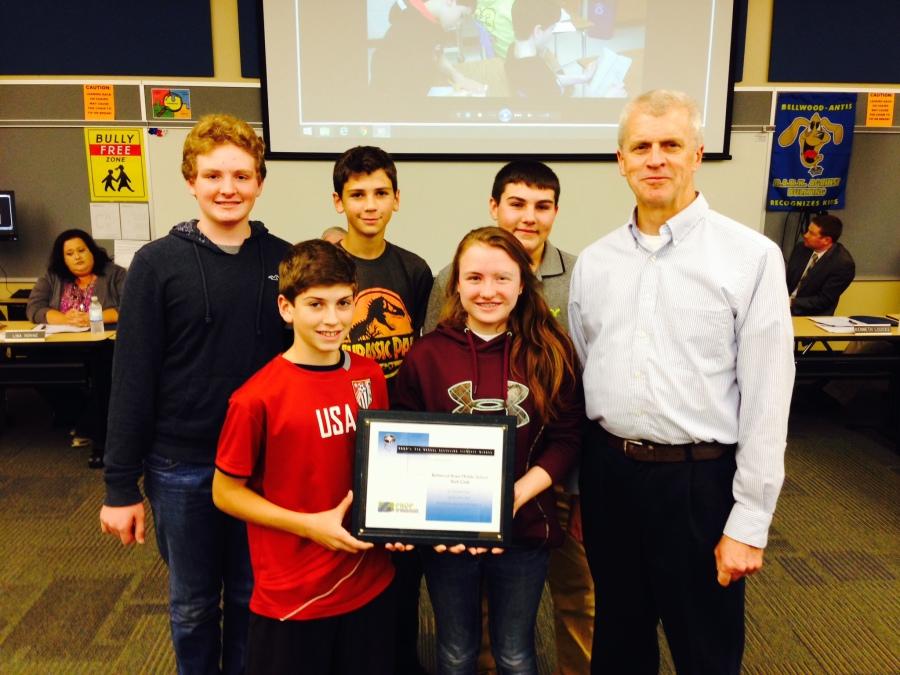 Last spring the BAMS Tech Club students wrote and produced a video about the importance of recycling in our school and submitted it to a contest sponsored by the Intermunicipal Relations Committee of Blair County. Not only did their work earn top honors in the local competition, but the winning video was automatically entered into the State Professional Recyclers of Pennsylvania FilmFest Contest for a chance to win statewide recognition as well as a cash prize.
Well, the votes were tallied, and you guessed it: The students recently received word that "The Monster Trash" won first place at the 7th annual competition which was held this past July in Washington, PA. Even better, the video will be used in future public outreach and educational programs around the state because it is now featured on PROP's YouTube Channel at www.youtube.com/user/PARecyclers.
John Frederick from the Intermunicipal Relations Committee of Blair County presented the students with a plaque as well as $200.00 check at last night's school board meeting.
The video took many hours to create, so without the help of some dedicated students such as Kermit Foor, Alex Hale, Aubree Reiter, Corey Johnston, Quintin Nelson and Blake Johnston, it could not have happened.
When asked about the victories, Aubree Reiter stated, "I am very proud that the Tech Club won the video competition because I think our video really explained the point of the recycling contest."
Fellow techie Kermit Foor added, "I think that out of all of the videos we have made, this one was the best one yet. We worked for many hours during and after school to make this video. Without the help of our teachers and friends, it would not have been possible."
A shout out to the Tech Club crew for your hard work on this project. We'll be looking forward to viewing your next Internet sensation!