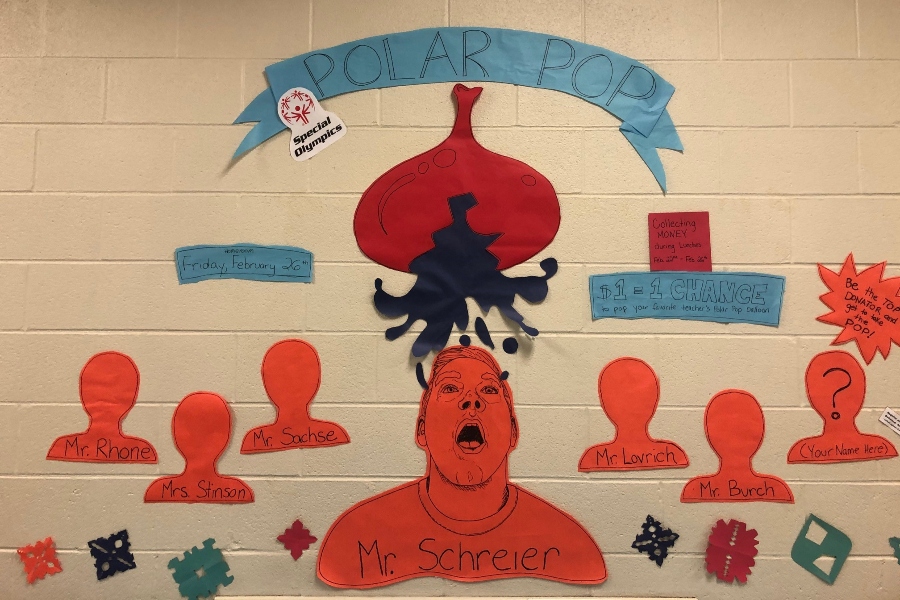 Caroline Nagle
In years past, the Polar Plunge was something different clubs at B-A participated in to raise funds for a good cause, but with social distancing in place large groups jumping into  the water together may not be the safest idea.
So Plunge organizers have gone a different route.
The Polar Pop is coming up to raise money for the Special Olympics.
In a manner similar to the ice bucket challenge from several years ago, when people recorded themselves dumping ice water on themselves to raise awareness for ALS, participants will be doused in freezing cold water after raising sponsorship money.
Anyone can start their own page and fundraise to get money.
At Bellwood-Antis, Mr. Schreier, Mr. Rhone, Mr. Sachse, Mr. Burch, Mrs. Stinson, Mr. Lovrich, and the top student Donator will take part in the Polar Pop this Year.
The teachers and the student will go outside in the freezing weather and get a cold water balloon popped over their head.
There is discussion of broadcasting this Event live on the schools website.
Registration options are BURRR-TUAL PLUNGER, HIBERNATING BEAR, ATHLETE BURRR-TUAL PLUNGER, and COOL SCHOOLS BURRR-TUAL PLUNGER.
BURRR-TUAL PLUNGERS register make a $20 donation and take the Polar Pop. raise $50 total and you'll get a Polar Pop T-Shirt.
HIBERNATING BEARS make a one time @50 donation and skip the Polar Pop. You'll get a hibernating Bear T-Shirt.
ATHLETE BURRR-TUAL PLUNGERS Is for SOPA athletes . when  you sign up your registration fee is waived but they encourage to raise money for your local  program.
COOL SCHOOLS BURRR-TUAL PLUNGERS Are all Unified Champion School students. The registration fee is waived and you must raise $40.
After you register you can complete the Polar Pop in 2 simple steps: Pop a cold water Balloon over your head and challenge 5 people to do the pop and share your experience using #PAPOLARPOP
Register and join the team Bellwood-Antis Schools. Select option: Cool Schools Burrr-tual
Use the barcode in the posters around the school.