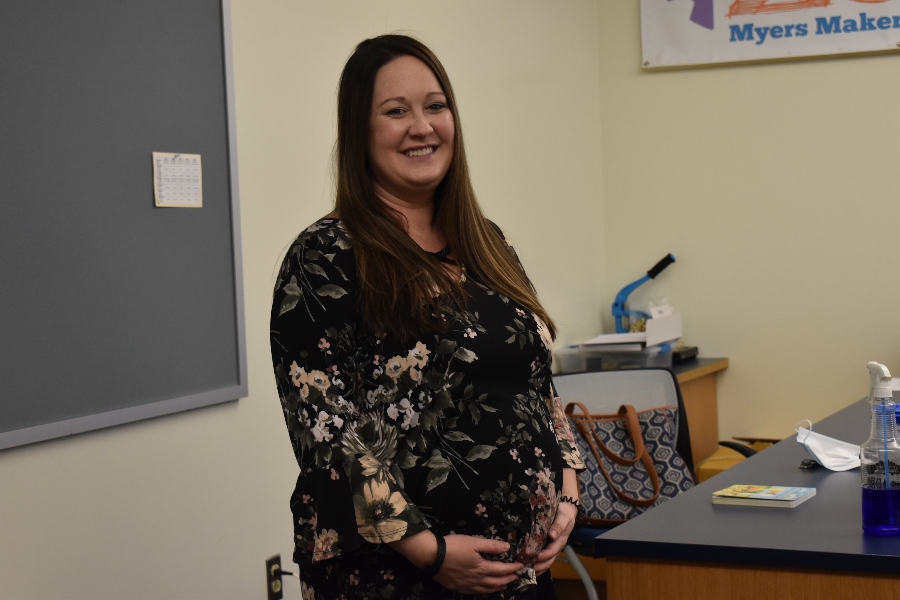 Caroline Nagle
With a baby on the way, Mrs. Kyley Longo-McGarvey is balancing out teaching, coaching basketball, and being a mom all in one. Just one of those tasks is extremely demanding, but Mrs. Longo-McGarvey doesn't seem to mind, finding time to take on home improvement projects in her "spare" time.
BluePrint asked Mrs. Longo-McGarvey questions on how she stays active while she is expecting a baby, how she is balancing out the demands of her schedule, and if the pandemic has affected her personally while carrying a baby.
BLUEPRINT: What are some things that you do to stay active since you're going to be expecting a baby soon?
Mrs. Longo-McGarvey: I am always on the go. I have a 4 ½ year old son named Greyson who keeps me very busy. My average day is running back and forth between buildings teaching tech. ed K-6. After school, I head straight to basketball practice. When I get home, it is play time with Greyson as well as lots of housework. On the weekends, I keep myself busy and active with projects around the house, whether it be painting, organizing, updating, or DIY projects. 
BLUEPRINT: How do you balance teaching, basketball, and even motherhood when you're expecting a baby?
Ms. Longo-McGarvey: It has been a challenge for sure, especially with how sick this pregnancy made me. However, I have been able to push through. It helps that I really enjoy teaching, and getting to make some really cool projects with kids all day long makes the day go quickly here at work. I have always been a do-er, so for me, the more I can get done and accomplish, the better I feel. When it comes to basketball, my husband and I both grew up playing basketball and played in college so it is second nature for us to be involved with the team. My husband is my assistant JV coach and we take Greyson with us to everything. He has grown up on a basketball court. He even learned how to walk by pushing the ball rack around. He is right at home when he is on the basketball court and the girls are like having 17 big sisters who teach all kinds of new things and pick on him just like a sibling would. 
BLUEPRINT: Has the pandemic affected you at all throughout this time? What obstacles did you overcome throughout this time while expecting a baby?
Ms. Longo-McGarvey: It has definitely been interesting being pregnant during a pandemic. I am trying to be extra careful to protect my sick days so that I will be able to have a paid maternity leave, rather than having to use my sick days for quarantine. I have had a difficult pregnancy this time around. For my first 21 weeks, I struggled with hyperemesis gravidarum, which made it super hard to get anything done in my daily routine. As a mom, it makes you feel super guilty when your little guy wants to play and you can barely move without getting sick. I have had a lot more health complications with this pregnancy that I ever had with Greyson. I just try to continually remind myself that God is blessing us with a sweet little girl and it will be worth it in the end. We are excited to meet our Riley Roux and can't wait to watch Greyson be a big brother. This will, however, be our last addition to the family. After this, the only thing I will be adding to our house is a piece of furniture or a new house project because this pregnancy has done me in.