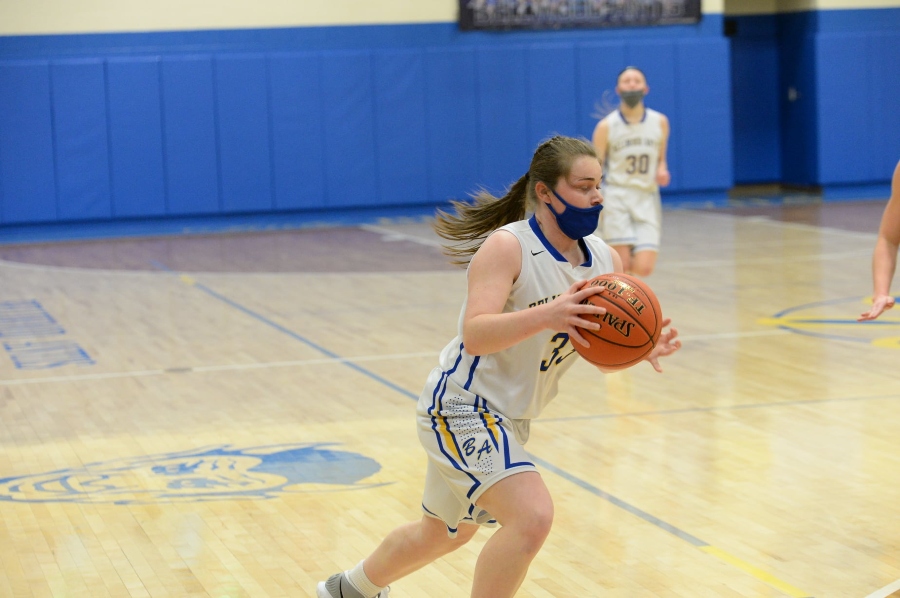 Terry McCaulley
The Lady Blue Devil basketball team traveled to Southern Huntington on Tuesday night to play in the quarterfinal round of the District 6 Class 2A playoffs.
Bellwood was winning early on, but the Rockets surged back and gained a comfortable lead in the second half. Southern Huntington won 69-56 and will now advance to play Penns Manor. The Comets upset West Shamokin 41-38 in overtime.
For B-A, it was the earliest exit from the playoffs since 2016.
The Lady Devils played the Rockets tough in the first half as they held a slim lead going into the break, but fouls and missed free throws killed BA. Bellwood's leading scorer Chelsea McCaulsky had 3 fouls at the half, which really hurt the Lady Devils in the second half.
McCaulsky picked up her fourth foul with about 3 minutes to go in the third quarter. Bellwood was down by just three at this point in the game, but the Rockets went on a 10-0 run soon after. McCaulsky eventually fouled out with about 5 minutes to play.
While McCaulsky led B-A with 17, she had plenty of help on the scoring end, even after she fouled out. Alyson Partner scored 15, Jaidyn McCracken 13, and Lydia Worthing chipped in 8.
Jenny Cantrell was the gamechanger for the Lady Rockets. She finished with a game-high 35 points and 11 boards.
The Lady Devils lost by 13, but they left a lot of points sitting at the foul line. The girls missed 16 foul shots on Tuesday night to finished 7-for-23 from the line.
This was a tough loss for Bellwood, but this won't be the last time the Lady Devils take the court this season. The ICC decided to have a four-team playoff for the league championship after the district playoffs are over. B-A was the ICC North champion.
Even though the girls lost last night they had an impressive season. Not many people would have thought this young Bellwood team would go undefeated in the ICC and make it to the playoffs.