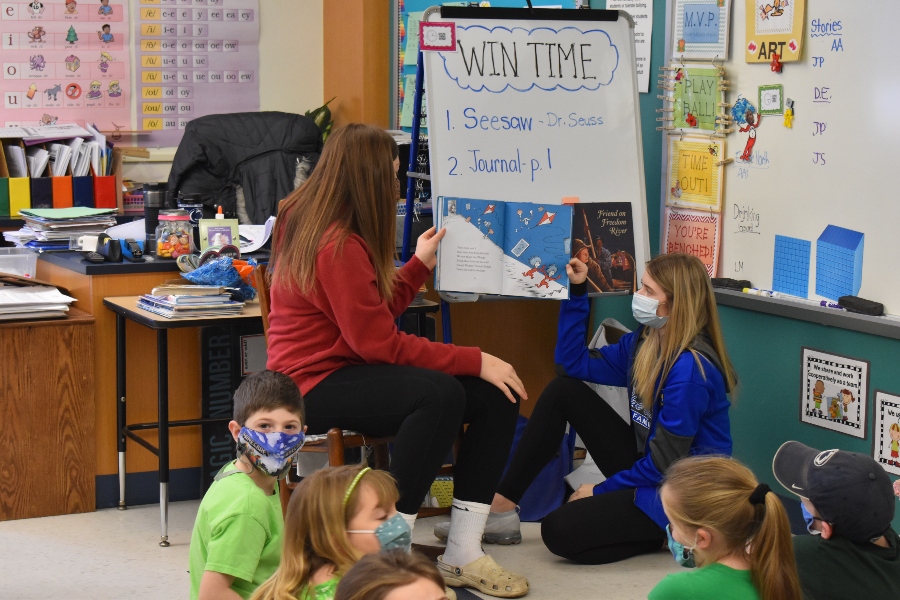 Caroline Nagle
In recognition of Read Across America Week, on Tuesday several groups of high school students conducted read-alouds with second graders at Myers Elementary School.
The students who participated in this event were: Haley Campbell, Caroline Nagle, Jake Mercer, Connor Bardell, Chloe Hammond, Cami Focht, Chance Schreier, Kole Dickinson, Alexandra Diamond, Kate Bianchini, Abi Eckenrod, Miranda Tornatore and Kate Heisler. 
This read-aloud event was organized by the Bellwood-Antis High School 9th grade class officers. It took the place of a much broader reading program between ninth grade students and second graders at Myers.
Over the last four years, ninth grade students participated in a book buddy program with the second grade students, but due to COVID-19 restrictions, high school participants were forced to adhere to social distancing guidelines and limit the amount of students going to the elementary school. 
So instead of every ninth grade student being paired with a book partner, small groups of ninth graders visited Myers and read to students from a safe distance of more than six feet.
"This was as good a replacement for our book buddy program as we could come up with," said ninth grade advisor Mr. Kerry Naylor. "Ideally, we would do something like this as well as the partners reading program, but considering where we have been this school year, from complete at-home learning to hybrid learning, we'll take this."
In another activity for Read Across America, seniors Haley Campbell and Alexandra Diamond created virtual read-alouds and posted them on YouTube. Campbell read: "Mr. Brown Can Moo! Can you?" Alexandra Diamond read: "Horton Hears A Who"
"The students did an excellent job reading some complicated stories to the elementary students. They seemed to enjoy it," Mr. Naylor said. "Dr. Seuss might be for children, but it's not easy to read out loud, especially with the pressure of an elementary audience."
Mr. Naylor said he plans on having ninth graders do this activity again, as long as they can to bring some joy and entertainment to the Myers elementary students.