Shakespeare at Bellwood-Antis
March 4, 2021
At Bellwood-Antis  Shakespeare is taught all 4 years. Romeo and Juliet is taught in 9th grade, Julius Caesar in 10th grade, Merchant of Venice in 11th grade, and Hamlet and Macbeth in 12th grade.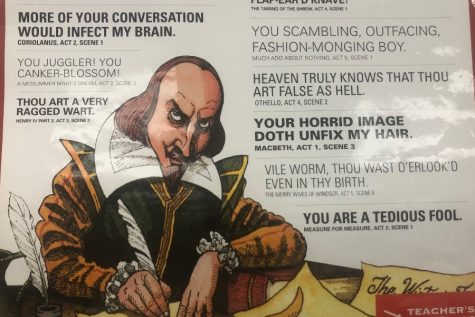 Aside from Mr. Naylor, other teachers from BA see the value in teaching Shakespeare but do their best to encourage diversity in other ways.
Mrs. Carol Bartlett, an 10th and 11th grade English teacher at BA, teaches The Merchant of Venice, "Sonnet 18; "Shall I compare Thee to a Summer's Day"; and Julius Caesar. "In The Merchant of Venice, for example, (Shakespeare) deals with the topic of prejudice, and in "Sonnet 18″ he deals with the topic of love; in Julius Caesar he deals with the topics ambition for power and murder. His works are a historical view of some aspects of human nature that never change."
Mr. Tim Van Scoyoc, another English teacher at BA, teaches  teaches his students Macbeth, Hamlet, and Othello, and he generally agrees with Mrs. Bartlett's assessment of Shakespeare's value.
"While the issue of dealing with 400-year-old language can be a challenge, Shakespeare characters and situations still have relevance for modern audiences, and I believe that students do find his plays interesting," he said.
In order to address diversity, Mrs. Bartlett uses a website called commonlit.org to give her students more of a variety. On the other hand, Mr. Van Scoyoc teaches British literature, so he doesn't much of a choice of diversifying his works.