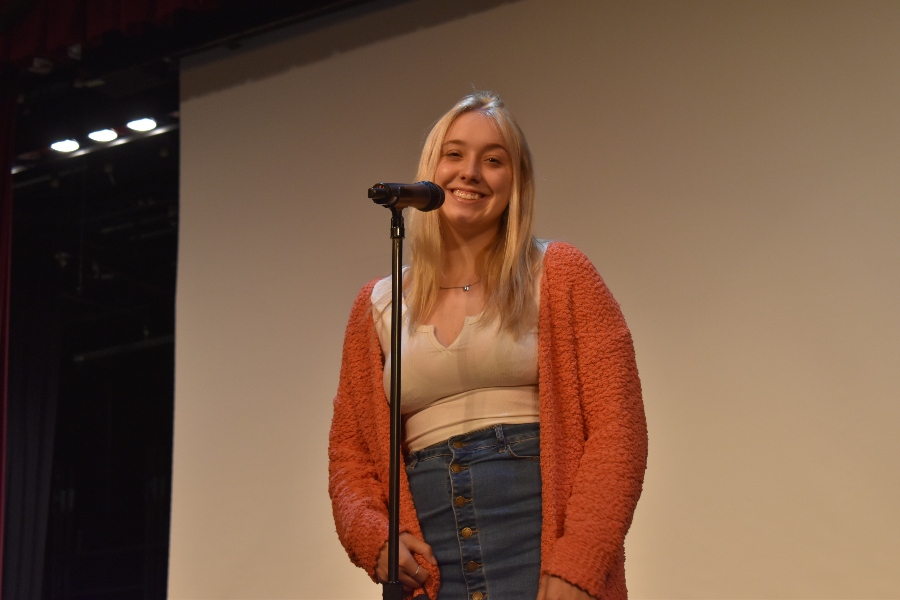 H
Avery Turek is a sophomore who has numerous talents, not only is she musically talented, but she also has a passion for cheer.
Avery has been performing since she was three years old, and started piano at age 6. She plans to use her talent later in life and become an elementary school music teacher. Avery's mentors that fueled her love for music are Mrs. Hall, and Linda Grymm. Her overall inspiration was Donny Osborne in "The Amazing Technicolored Dreamcoat", and Amanda Seyfried in "Mama Mia."
Avery has also performed in some musicals throughout her years at Bellwood. She got her start as an orphan in "Annie" when she was in third grade. She was also in "The Music Man," "School House Rock," "Footloose," and most recently "Godspell."
She takes her theatrical talents to the Speech League team as well which she has done since 7th grade. She has competed in the dramatic interpretation (DI), prose, and duo categories throughout her years.
Avery has been cheering since she was 7 and she got her start on the East Antis Rams. Now, she is on the varsity cheer team and has been since freshman year. She also continues to help out with the Rams cheer team on her free time during the BAYFL season.
In Avery's free time she likes to create makeup looks, cheer and sing and her favorite artist is Harry Styles and she plans on seeing him in concert soon.