Alumni duke it out in Backyard Brawl pick-up game
Former student teacher Dustin Elder grabs MVP honors
Editor's Note: After our three-week Instagram battle with the EagleEye News from Tyrone Area High School came down to the wire, I challenged members of my personal social media circle.  My Facebook post went something like this: "We will need 500 follows to win our Instagram war.  If you are follower number 500, you will get to choose a story for publication in the BluePrint."  That person, lucky number 500, was 2008 grad, as well as ardent Penn State alumnus, Jeff Stuby.  He and his fellow B-A and PSU alumni friends play an annual pick-up football game, one they take pretty seriously.  As promised, this is their story.
The Backyard Blue-White Fantasy Flag Football Huck It Chuck It For The Kids Brawl… what? Talk about a mouth full.
Biggest game of the year? Definitely.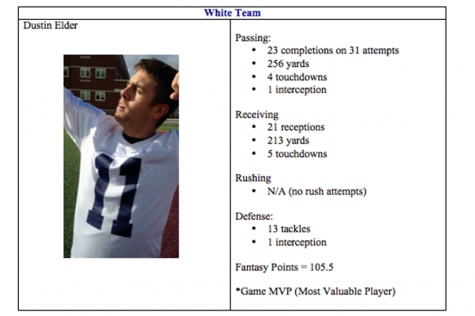 This football game is put together by a group of former Bellwood-Antis and Tyrone students, and it's played once a year.
"The game is an annual event that occurs to commemorate our competitive spirit, our Penn State fandom, and America," said Jeffery Paul Stuby Jr., the event organizer.
This year, the game was held at the athletic field across from the Altoona Field House on October 18th, at 3:00 p.m. The game was dedicated to the memory of Ralph Dale Earnhardt (1951-2001).
By half-time of this excruciating battle, the teams were tied 20-20. Must have had some beastly offense, wouldn't you say? But the Blue Team's defense rose to the challenge in the second half. With a final score of 74-68, Blue Team took home the gold!
Well, actually, they all just went home, but that's beside the point.
The game even had a most valuable and least valuable player. This year, Dustin Elder, who graduated from Tyrone but recently completed his student teaching with Mr. Burch at Bellwood-Antis,  was deemed MVP, while Dylan Shultz was LVP. Elder had a total of 256 yards passing, 21 receptions, 13 tackles, and 9 touchdowns all together. Shultz had no passing attempts, only three receptions, and a fumble. Defensively, he had three tackles.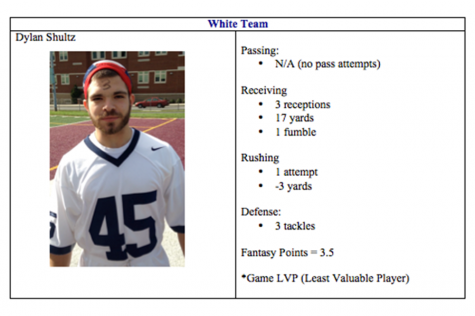 The following lists the players for each team, the school they attended, and the year they graduated.
Blue Team:
Ethan Lewis (Tyrone, 2010)
Tyler Campbell (Bellwood, 2013)
Jeff Stuby (Bellwood, 2008)
Tyler Lucas (Bellwood, 2008)
White Team:
Evan Lewis (Tyrone, 2010)
Ryan Stuby (Bellwood, 2012)
Dustin Elder (Tyrone, 2009)
Dylan Shultz (Bellwood, 2010)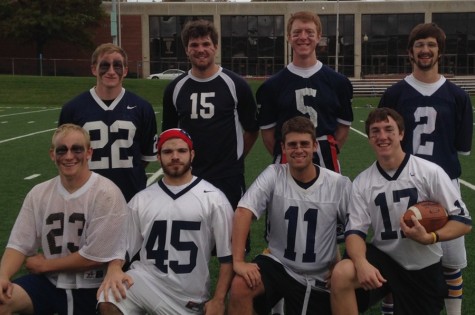 View Comments (1)