Changing to flexible seating was a nerve wracking experience, says Mrs. Clabaugh, but it was worth it.
Because it's a major philosophical changes that involves a lot of preparation and a lot of nervousness, she's not sure if other teachers will follow, but she is hoping that they will consider flexible seating or add some pieces of it.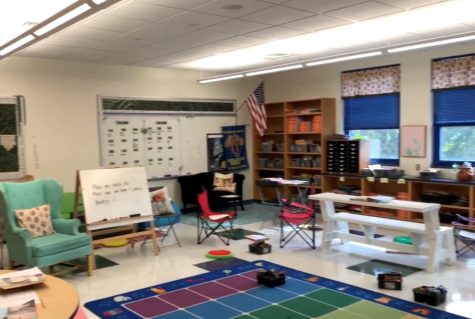 Mrs. Clabaugh  said she has seen improvements in students behavior and academic performance, which has eliminated a lot of fidgeting.
"The flexible seating environment pulls them away from a desk full of items that might otherwise distract them," says Mrs. Clabaugh. 
Beyond that, flexible seating simply provides an aesthetically pleasing environment that is different and engaging.
Mr. Stinson admits that for some there may be a stigma attached to the dramatic seating change, but he would like to see more teachers take similar leaps.
"Its very hard to break the stereotype that all classrooms must be in rows with the teacher talking the whole period because that is how so many of us were taught," said Mr. Stinson. "However, introducing new methods should include all students needs."