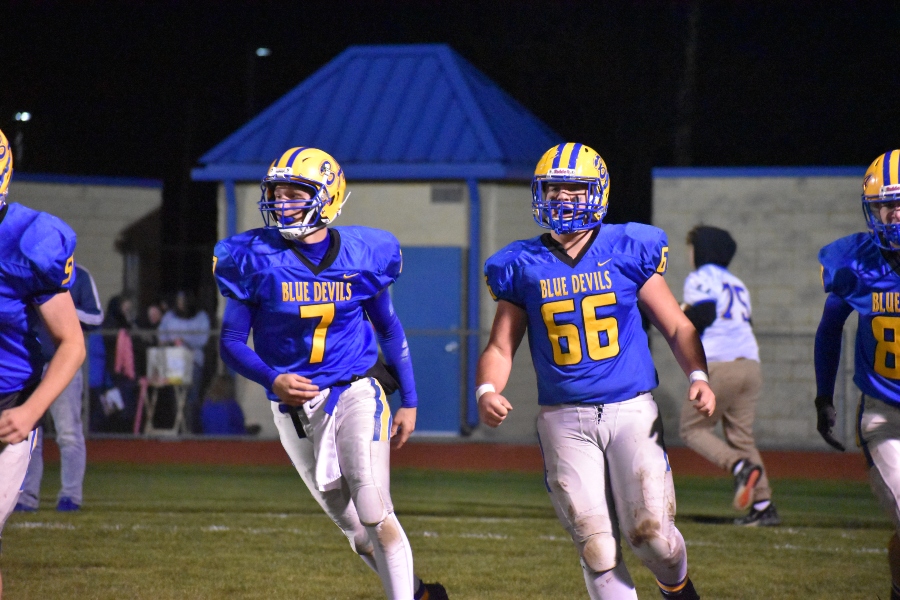 Last Friday the No. 2 Blue Devils put an end to the Penns Valley Rams' season with a high-scoring victory in the District 6 2A quarterfinals at Memorial Stadium. B-A now advances to the semi-finals to face off against the third-seeded Richland Rams. The run game proved to outweigh Penns Valley's aerial attack with 333 rushing yards from the Devils and 252 passing yards from the Rams, 167 of which came from three long passes.
Penns Valley took no hesitation to strike first with a 63-yard pass for a touchdown on the first play of the game. B-A was unfazed by the momentum swing as they answered with three rushing touchdowns, two coming from running back Connor Gibbons and one from fullback Cooper Guyer. The Rams would have another long ball score in the first with a 60-yard pass for a touchdown to make the score 21-14 after the quarter.
B-A quarterback Zach Pellegrine found wide receiver Hunter Shawley twice in the second quarter to put up a pair of scores before the Rams would put up another deep ball touchdown to make the score 35-21 at the half. The Devils would hold the Rams to only one more score in the matchup with yet another passing touchdown in the third to make it a one-possession game before two more touchdowns and an interception by Connor Gibbons would make the final score 49-28.
Although the run game was key for Bellwood's victory, the offensive line paved the way for Blue Devils' backs to perform. Guard Cooper Guyer stated, "We take a lot of pride in our line and rely on our run game pretty heavily, so performing our best is key to win any game."
Head coach Nick Lovrich was able to put on the "next play" mentality in order to pull out the victory.
"That next play mentality is just something we focus on all the time. When we make a mistake and just dwell on it, it does not get any better. We put that mistake behind us Friday night and answered with a great drive to even the score."
B-A is set to host the Richland Rams this Friday at Memorial Stadium. Good luck Devils!