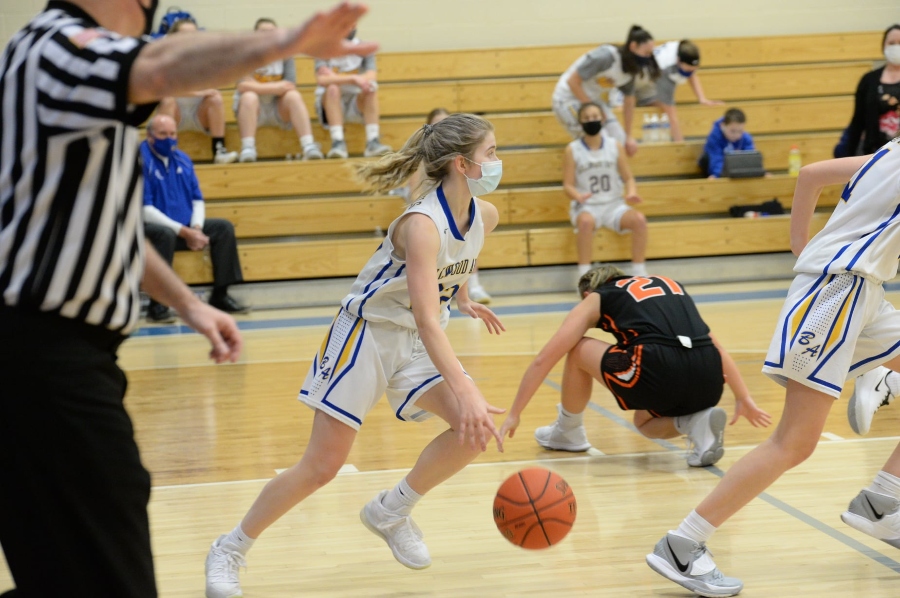 Jeff Miller
The girls basketball team will return a lot of familiar faces from last year, only losing two players to graduation and returning all five starters.
This years winter sports season hopes to return somewhat normal after the 2020-2021 season consisted of very limited fan attendance.
Last season, the girls basketball team finished with an overall record of 10-5, while having an undefeated ICC North record at 9-0. The Lady Devils return all five of their starters, as well as their 6th and 7th man.
The team will look up to lone senior Jaidyn McCracken to build upon her junior year, which saw her scoring 12.3 points, grabbing 7.9 rebounds, as well as getting 2.1 steals per game.
The team will also count on juniors Chelsea McCaulsky, Lydia Worthing, and Alyson Partner stepping up into a more prominent role.
Chelsea was the leading scorer last year for the Blue Devils putting up 15.5 points, while also dishing out 3.9 assister per game. Only three tams last seasonn found a way to hold McCaulskey under double-digits, and she scored a season-high 30 against Mount Union.
Lydia Worthing was the leading board getter for the team getting 10.7 boards per game while also blocking 2.7 shots per game. She also scored 10.9 points per game.
Hammond averaged 3 points per game last season in 15 games of action. Partner, meanwhile, averaged more than 8 per game, including five games in double-digits. She scored a career-high 15 against Southern Huntingdon.
The girls team returns a lot of talented players and looks to build upon a season in which saw them get to the ICC championship game. The girls team will start the season on Saturday, December 11 on the road against Tyrone.