How Sweet it is
B-A fifth grader makes her mark in wrestling
Isabel Higgins Sweet has heard it all before. The jokes. The snickers. The insults.
They motivate her.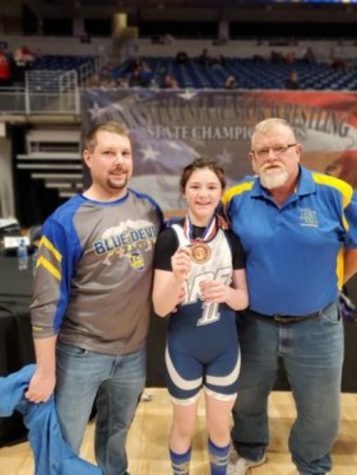 As a young female wrestler in a male-dominated sport, it's actually quite common.
But while the teasing may be all jokes for boys her age, for Sweet wrestling is her future.
Every time Sweet walks on the mat to shake her opponent's hand, she's looked at as just a girl and an easy win, but after becoming the first female wrestler from Bellwood-Antis to place at the prestigious Pennsylvania Junior Wrestling Championships – coming in fourth at 108 in March – it may be time to put some respect on her name.
"My love for the sport first started when I would walk on the mat and kids would just laugh and take me as a joke," she said. "Until one match I pinned the kid in the first period, and then he was the one crying when walking off the mat."
Sweet , who is in fifth grade at the Bellwood-Antis Middle School, started wrestling in the first grade after her older cousin Aiden took up wrestling. Aiden made her want to push harder to be even better than her older cousin.
"At first I was nervous about it, but when I saw how much she loved taking down boys my heart warmed up to it," said Sweet's mom Victoria Higgins. "She fell in love with wrestling because of my nephew Aiden. We would go watch him, so when the next season came around and she wanted to give it a try, to we called up pap, aka, Coach Sweet and told him."
Sweet trains hard to be where she is in the sport of wrestling, and she is lucky to have a very good tutor. Her grandfather, Coach Chris Sweet, was a very good high school wrestler at Richland High School, qualifying for states in the heavyweight class. He is one of her elementary coaches.
"I work hard getting on better with my pap, but I also go to Gorilla House gym pretty regularly," Sweet said.  "And I go to a lot of additional wrestling tournaments outside of season to see better competition."
Sweet's mother couldn't be prouder.
"It amazing that she wanted to take on a boy sport," Higgins said. "And now here she is in fifth grade and still loving it to where she trained hard to qualify for her weight class (for the state championships)."
But even with her success, competing in wrestling remains an uphill battle for girls like Sweet. According to PAWrestling.com, Pennsylvania is one of just 18 states with no official girls wrestling division, which means in high school girls must wrestle boys to be on the team.
"The PIAA has stated that 100 schools need to sponsor a girls wrestling team before they will sanction it and create a PIAA Girls Wrestling State Championship," the website explains. It also directs readers to sanctionpa.com, where supporters can visit to learn more about the issue.
The 2017-2018 data shows the difference in national wrestling participation from boys to girls is completely one sided. There are over 245,500 boys to 16,500 girls. However, female wrestling is growing in popularity. There are now 32 states that offer girl wrestling programs around the nation.
"
Izzy is a great role model and wrestler, showing local girls that they can be just as competitive, no matter who they are competing against."
— Coach Evans
At B-A, Sweet is one of two girls to take up the sport. Eighth grader Eli Patterson was on the junior high team last season.
"As girls wrestling gains more momentum across the nation, Izzy is a great role model and wrestler, showing local girls that they can be just as competitive, no matter who they are competing against," said another elementary coach, Josh Evans.
Rather than being put off by having to wrestle in a domain once reserved for boys, Izzy is excited by challenge.
"Beating boys is definitely my favorite part of wrestling," she said.
PJW's does offer female classifications, and this past winter, Sweet worked all season to qualify for the 108 weight class for the 11 and 12 year old girls.
The PJW tournament compares to the high school PIAA wrestling state tournament, and Sweet is a two-time time state qualifier.
Middle school classmate Chase Plummer also placed at PJW, taking third in the 200-pound weight class.
Sweet also wrestled at the Keystone Classic in Erie  earlier in the season, wrestling up a weight class and still placing fifth. She said her favorite core memory from the season was facing a male opponent she initially thought was much better than her, only to win 10-0.
Wrestling can be a personal sport, but few realize the work needed inside and outside of the wrestling room. This includes diets, training, and mental toughness, whether you start when at age 5 or  16. That's the commitment Izzy has made at a young age, and she has many goals for her junior high and varsity career as she moves forward. Her two main goals are to make it onto the schools elite 60-point club banner, and to make it to the PIAA high school championships.