B-A awards $69,000 in scholarships to class of '22
Monday the annual senior scholarship awards banquet was held in the high school gym. Business and civic leaders made it possible to award $69,000 in scholarships to 41 Bellwood-Antis seniors.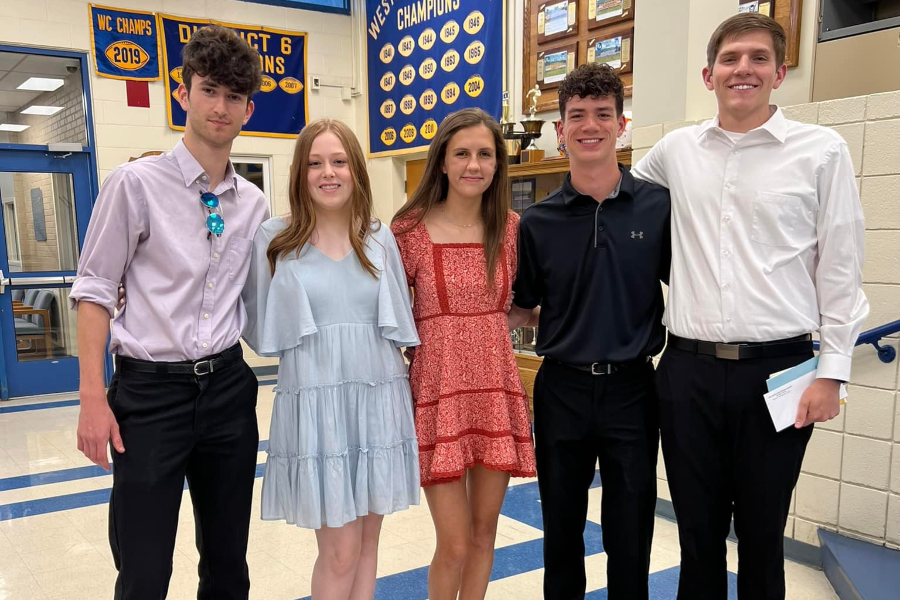 Some of the big winners included Ashlyn Ball and Sarah Berkowitz, who each received at least $3,000, Ethan Brown, who earned $4,000 in two scholarships, Tayiah Keefer, who was awarded $4,500, and Anna Lovrich, who was the recipient of more than $6,000 in financial awards.
A complete list of scholarship winners follows:
Zachary Bishop Amato 
$500 Knights of Columbus Scholarship
$1,000 DelGrosso Food Scholarship
Ashlyn Mae Ball 
$500 Linette Allen Memorial Scholarship
$2,500 B-A calss of 1994 Scholarship
Sarah Mariska Berkowitz
$250 Music Scholarship
$250 Chorus Scholarship
$250 French Club Scholarship
$500 Blue and Gold Scholarship
$1,500 Retired B-A Administrators Scholarship
Nicole Marie Boslet
$250 Bellwood-Antis Community Picnic Scholarship
$500 Lion Club Scholarship
$500 Mighty Warrior 6:12 Scholarship
$1,000 DJB Scholarship
Ethan Barry Brown 
$1,500 David W. Lewis Family Scholarship
$2,500 McClanahan's Scholarship
Giovanna Elena Caraciolo 
$250 Blue and Gold scholarship
$750 Bellwood-Antis PTO Scholarship
Dominic Milton Caraciolo
$250 Mighty Warrior 6:12 Scholarship
$500 RSM Scholarship
$750 Bellwood-Antis PTO scholarship
Brandon Phillip Cherry 
$500 Dunn Family Scholarship
$500 Blue and Gold Scholarship
$1,000 Bellwood-Antis Class of 1989 Scholarship
Emma Mae Chronister
$250 South Hills School of Business and Technology Scholarship
$500 Linette Allen Memorial Scholarship
$500 Bud Grazier Memorial Scholarship
Claudia Dawn Engle 
$500 Bellwood Fraternal Order of the Eagles Scholarship
Samantha Grace Gerwert 
$250 Mighty Warrior 6:12 Scholarship
$250 STAR Team Scholarship
$1,000 M&T Bank Scholarship
Cooper Todd Guyer 
$250 Blue and Gold Scholarship
$1,000 Dennis L. McCellan Sr. Memorial Scholarship
Dailyn Tiffany Hampton 
$500 Beard Legal Group Scholarship
$750 Mary Jane Barr Memorial Scholarship
Ethan Michael Hess 
$1,500 Corrie Fisher Memorial Scholarship
Tayiah Karen Keefer 
$2,000 Lillian Johnson Memorial Scholarship
$2,500 CWC First Year Award Altoona Scholarship
Cooper James Keen 
$250 Northern Blair Kiwanis Military Service Commitment Award
Michael John Kienzel 
$250 Mighty Warrior 6:12 Scholarship
$1,000 Duane Hollen Memorial Scholarship
Alex Connor Kovac
$500 B-A Youth Baseball Scholarship
$500 Bellwood-Antis Class of 1983 Memorial Scholarship
$1,000 B-A Class of 1990 Brian Keiser Memorial Scholarship
Anna Mae Lovrich 
$250 B-A Girls Track Scholarship
$500 Bellwood-Antis Class of 1972
$1,500 Tyler/Lovrich Family Scholarship
$4,000 Bruno and Lean DelGol Family Foundation Scholarship
Jack Kevin Luensmann
$2,000 Lillian Johnson Memorial Scholarship
Sean Patrick Mallon 
$250 Blue and Gold Scholarship
$500 Thomas Otto Family Scholarship
$500 Nothern Blair Kiwanis Club Scholarship in Memory of Harold Wagner
Brianna Nicole Markel
$500 First Commonwealth Bank Scholarship
Jacob Benjamin Martin 
$500 Fostoria Farms Scholarship
Sarah Nicole Mayes 
$500 David Heisler Memorial Scholarship
$1,500 Mary Banks Memorial Scholarship
Jaidyn Taylor McCracken 
$500 B-A class of 1960 – "Whitey" Stephens Memorial Scholarship
$500 Forshey Family Scholarship
Jayce Marie Miller 
$250 B-A Chorus Scholarship
$250 Musical Scholarship
$500 Band/Majorette Scholarship
$1,000 Darlene Carter Memorial scholarship
Dawson Glenn Miller 
$500 B-A Class of 1985 Scholarship
$500 Bellwood Fraternal Order of the Eagles Scholarship
$2,000 Madison Shura Memorial Scholarship
Crisinda Marie Miller 
$300 Sinking Valley Grange #484 Scholarship
$500 Eagle Riders Scholarship
Gabriella Elizabeth-Dare Musselman 
$500 Bellwood-Antis Class of 1969 Scholarship
$500 Caesar Batise Scholarship
$1,000 Thelma Fowler Memorial Scholarship
Sophia Arabella Nelson
$500 Richard McEldowney Memorial Scholarship
$1,000 Polly Decker Barbosa Memorial Scholarship
Caden Skye Noel
$500 Richard McEldowney Memorial Scholarship
Brianna Kaitlyn Partner 
$250 Blue and Gold Scholarship
$1,000 United Veterans Home Association Scholarship
Zachary Nicholas Pellegrine 
$250 Blue and Gold Scholarship
$1,000 United Veterans Home Association – William Sitman Memorial Scholarship
Alex Michael Perry
$1,650 Harshman Family Scholarship
Aiden Robert-Fredrick Reimer 
$2,000 Tim Sissler Memorial Scholarship
Hunter James Shawley 
$250 B-A  Boys Track Scholarship
$250 Mighty Warriors 6:12 Scholarship
$500 Caracciolo Sheet and Metal Scholarship
$500 Tyler/Lovrich Families Scholarship
Jaylee Marie Shuke 
$500 Bellwood-Antis Class of 1964 Scholarship
$1,000 Thelma Fowler Memorial Scholarship
Dallas Edan Smithmyer 
$500 Bellwood Fraternal Order of the Eagle Scholarship
$500 Bud Grazier Memorial Scholarship
$2,500 Bellwood-Antis Class of 1944 Scholarship
Abby Nicole Watters 
$500 Northern Blair Kiwanis Club Scholarship in Memory of Howard Walker
$500 Eugene and Jean Harker Memorial scholarship
Ryley Elizabeth White 
$250 STAR Team Scholarship
$500 Northern Blair Kiwanis Club Scholarship
Raela Therese Rose Zuiker 
$500 Bellwood-Antis Band Scholarship