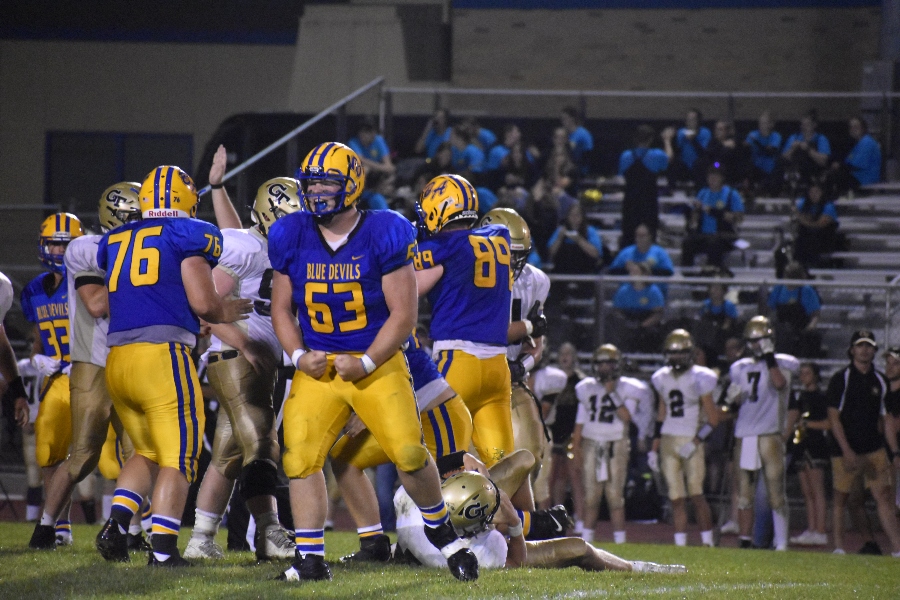 Morgan Kienzle
Last Friday night the Bellwood-Antis Blue Devils took on the Golden Tide in a battle for the top spot in the I.C.C.
The Devils won the game 40-14 are now 2-1 overall and 2-0 in the conference.
B-A had a strong offensive game where they ran the ball. Senior quarterback Gaven Ridgway rushed the ball for 204 yards and 3 touchdowns and passed the ball for 109 yards and a touchdown. 
Sophomore running back Griffin Kyle had 104 rushing yards and 2 touchdowns. Senior tight end Eli Pluebell picked up a touchdown and had 31 receiving yards. 
There was no letdown on the defensive side of the ball, either. Led by senior linebacker Ethan Norris, the Blue Devils had 58 tackles and Norris had 9 of his own. Senior Dylan Andrews had a goal line interception and ran it back for 55 yards. 
Andrews' interception came at a key time. The Tide had just scored to pull within 28-14 and then recovered a fumble on the ensuing kickoff with 10 minutes left in the game. Two plays after Andrews' pick, Kyle scored one of his touchdowns and the route was on.
B-A totaled 558 yards of total offense, 456 of which came on the ground. It was enough to withstand Curwensville's star quarterback Danny McGarry, who completed 22 of 36 passes for 195 yards.
The Blue Devils are now getting ready to play Everett this Friday. The game is home at Memorial Field at 7.