B-A Chorus heads to districts
This week, a select group of Bellwood-Antis High School choir students will be traveling to an overnight PMEA district chorus competition to compete  to qualify for regionals.
The choir students include 10th grade chorus member Jacob Caracciolo, and 12th grade chorus members Avery Turek, Daman Mills, and Carter Rettig.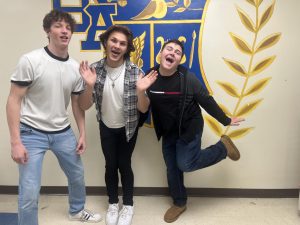 Mr. Zachary Spaw, the new music teacher and chorus director, will be the group's advisor and will be traveling along with them. He feels that this is a great opportunity for him to develop professional opportunities and to help him prepare for his new role at the school.
The competition will be held in Portage High School , and the district singers will be staying in a nearby hotel from Wednesday night through Friday morning. They  will be rehearsing from 8:45 a.m. through 8:30 p.m. for their concert on Friday, while learning from professionals such as Jeffrey Webb, a UPJ professor. Singers can also watch performances, such as the Vocal Boom! Quartet.
The group has been rehearsing with Ms. Beth Hull during free periods and free time. Some of the pieces they will be performing are E Oru by Rosephanye Powell, The Awakening by Joseph Martin, and Worthy to be Praised  by Byron J. Smith. 
To senior Daman Mills, district chorus means, "Getting to have a good time with friends. It is just 2 days where I can try to relax and just have a good time singing music."
Meanwhile, this is not senior Avery Turek's first time competing in district chorus.
"It's just cool to see myself improving," she said. "I did a lot better this year than the past 2 years. I just really look forward to getting to meet people with the same interests as me. I mean, I still talk to some of the people I met last year."
Carter Rettig and Mills are most excited for the PMEA stuffed crust pizza!
Their concert will be Friday, January 13 in the Portage Senior High at 7 p.m.
Good luck to all the district singers!