ATHLETE OF THE WEEK: Chris Walls
This week's Athlete of the Week is junior Chris Walls, a right-handed pitcher on the baseball team.
Chris has had an outstanding season. He is the team's best pitcher and currently has a record of 3-1 with an ERA of 3.04. He also leads the team in strikeouts with 29 Ks in 23 innings. In his most recent outing on Monday, Chris fanned 9 in a complete-game victory over Williamsburg.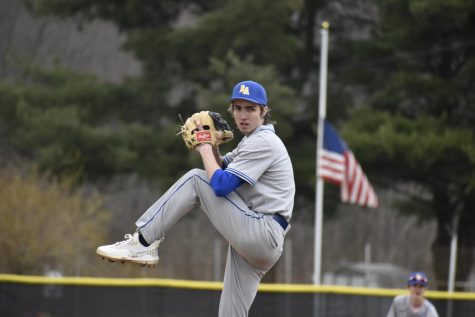 Chris learned to pitch at many different pitching academies and works with his father to perfect his pitching mechanics.
He has been playing baseball ever since he was about 5 years old. Outside of the baseball diamond, Chris spends his time lifting, long tossing, playing golf and basketball, and hanging out with friends.
Chris' favorite baseball team is the Pittsburgh Pirates, favorite color is orange, and favorite food is steak.
When asked what his goal is for high school, he says, "I would like to try and get into a college to play baseball."
"
Since last season, Chris has improved at commanding the zone, 1st pitch strikes, and his strikeout to walk ratio. His confidence has improved in his defense and his rotation behind him as well.
— Coach Tom Partner
This season, coach Tom Partner has said that going forward, Chris has played a huge role in being our ace and gives us our best defense to win.
Leave a Comment