Soldiers say "Thank You!" to our BAHS elementary students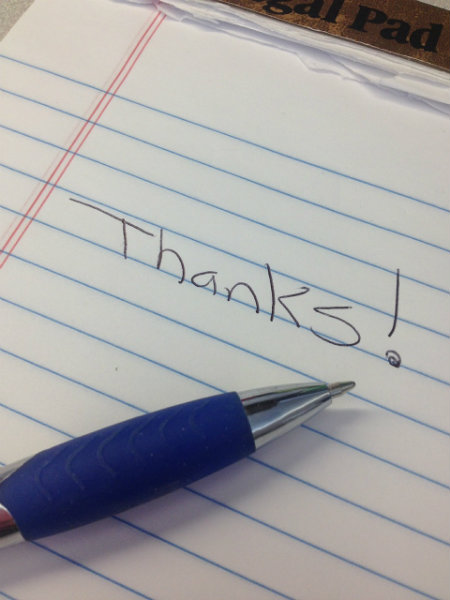 "We do not do this for the many thanks that we do receive.  We do it so that all of you can remain safe and maintain the one thing that sets our country apart and above all others….freedom."
This message was sent along with other letters from soldiers aboard the USS Carl Vinson who wanted to show their gratitude for the Christmas stockings that Myers Elementary students sent them in December as part of the Stocking for Troops campaign.
This program brings cheer to deployed service men and women at a time when they are emotionally vulnerable because they are separated from their families and friends. Service men and women feel unappreciated sometimes.  They sacrifice a lot, potentially their health and lives, and get little in return.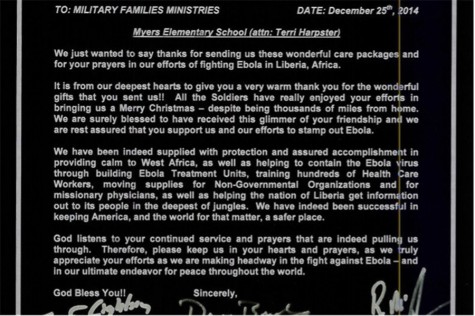 Stockings were filled with food, playing cards, candy, and most importantly handmade cards that were made by Myers students. Even though these kids may be  too young to fully understand what United States soldiers are sacrificing, they still know that they are making a difference.
Ms. Harpster, Myers principal said, "I appreciate getting "thank you" letters from the recipients of the stockings projects.  I share the letters with teachers who share them with students. I also place the letters on our social media sites.  The "thank you" letters are a way for students and parent volunteers involved in the project to experience the satisfaction of helping others."
One Myers student said "I like the soldiers.  They beat the bad guys. The bad guys are bullies and nobody like bullies."
The smiles that Myers students put on our soldiers faces during the Christmas season were priceless.  We were told that some of the cards were so touching that they made the  service men and women cry.
From Bellwood- Antis to all of our active men and women we keep you in our thoughts and prayers this New Year.  We hope you all get home safely in one piece.  GOD BLESS YOU ALL!
Leave a Comment