Blue Devil Nation
Our student section wants you to come out and support Bellwood's athletes!
Blue Devil Nation is inviting you to come out and support all of our student athletes!
Blue Devil Nation, BDN as it is affectionately known, is the vocal student section at football and basketball games. It's entirely student-directed and organized, and has been for years.
Seniors Chad Luensmann, Jake Shade and Natalie Dumin, along with other BAHS students, have evolved the student section into a great way to bring the student body together and have fun while supporting our school.
The biggest thrill of Blue Devil Nation seems to be the theme nights students create. When asked how the themes are chosen, Natalie said, "We all collaborate and think of themes that will accommodate everyone. We reuse themes that were a success in past sports."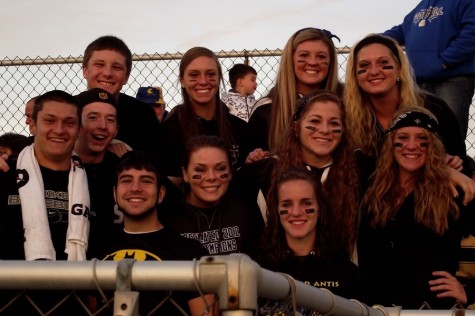 Some of the past themes include: white out, black out, blue out, Christmas theme, beach theme, nerd night, redneck night, USA night, costume night and pink out.
BDN spreads its message through Twitter, often using the hashtag "Electrify."
"The theme nights have really helped expand Blue Devil Nation," said Luensmann. "Everyone wants to come out to the games and have fun. The best nights and themes are always the big games."
Is Blue Devil Nation living up to the lofty expectations set by previous senior classes and student sections? Most students seem to think so.
Past seniors like Tyler Campbell (2013) really set the tone for the student section.
"When I moved to Bellwood in tenth grade, Tyler was leading Blue Devil Nation. My previous school's student section was nothing compared to the one we have here at BAHS," said Jake, who transferred to B-A from Shippensburg as a sophomore. "I loved how everyone went crazy for basketball games and Tyler did a great job leading it. I think this year Chad brings the same intensity to the student section and gets everyone hyped up."
Chad said that he believes Blue Devil Nation is a boost to the athletes and they agree with him.
"
We want anyone to come out who will cheer for Bellwood and be a positive addition to Blue Devil Nation."
— Natalie Dumin
"Blue Devil Nation is a great student section and I like having  them at games," said junior basketball star Nathan Davis. "It helps us play and amps us up."
Trenton Creppage, an all-state football player for the Blue Devils, said "Blue Devil Nation motivates us and helps us do better."
Natalie said that Blue Devil Nation is open to all BAHS students.
"We want anyone to come out who will cheer for Bellwood and be a positive addition to Blue Devil Nation," she said.
Jake said that Blue Devil Nation is important to him because "school spirit is a very important thing in every high school. It's all about supporting our athletes and giving them the support to do their best and beat the other team."