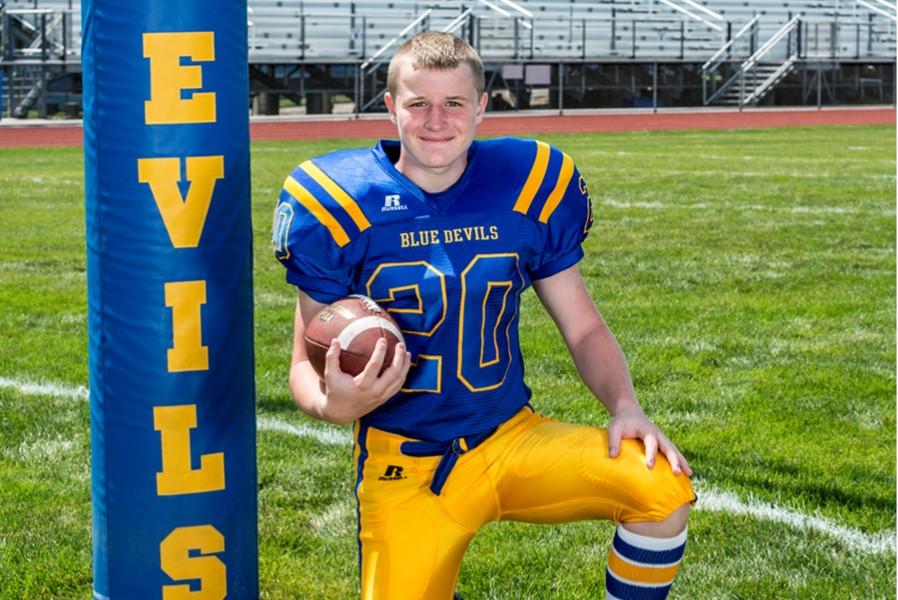 Manning
The sophomore of the month is Ryen Beam. Yes, that's Ryen with an E.
He enjoys the band Slipnot, and his favorite song is "I Will Not Bow" by Breaking Benjamin. His favorite movie is Forrest Gump. Ryen pretty much likes every food. His favorite class is algebra 2 while his favorite teacher is Mr. Lovrich.
"Ryen was very nice to me when I first came here. He is never in a bad mood," said Aaron Andrews.
Ryen participates in football, and he has been in it for about 7 years. His position is a halfback and defensive back.
What inspired Ryen to play football was that he used to watch it on TV and he would play it in the backyard with his friends. He also thought it would be fun to try.
"I loved football ever I was young," Ryen said.
Ryen likes being in football because he likes being with the team and working together as a whole. "I like the competitive atmosphere that comes with playing the game," Ryen said.
Ryen also participates in track. His events are pole vault and he sometimes does the 400m dash. "I like having the chance to show my individual skills while earning points for the track team," Beam said.
Ryen believes that he has changed from freshman year by becoming more focused on his school work and athletics. He is also more confident in his athletic abilities than he was last year.
"I've taking a more serious approach at school while still having fun with friends," Ryen said.
There are two people who Ryen looks up to, his mom and Mr. Lovrich. "I think Mr. Lovrich is very inspirational and an awesome coach," Ryen said. "My mother is someone who I usually go to for advice and she always takes care of me."
Ryen enjoys going to Bellwood because he likes the small town atmosphere. He also enjoys the people who live here and the teachers.
Ryen is into playing guitar, video games, and hanging out with his friends.
One thing that you may not know about Ryen is that he has Type 1 Diabetes. He was only 8 years old when he was diagnosed.
"When I first found out, I didn't really know what I had until they explained to me. Then I figured that it was going to be something that I was going to have to live with," Beam said.  Ryen had his mind to make the most of it.
Ryen handles diabetes everyday by making sure his blood sugar is regulated and that he takes enough insulin when he eats. "In a way it actually helps me take better care of myself than if I didn't have diabetes so I guess that's a good thing," Ryen said.