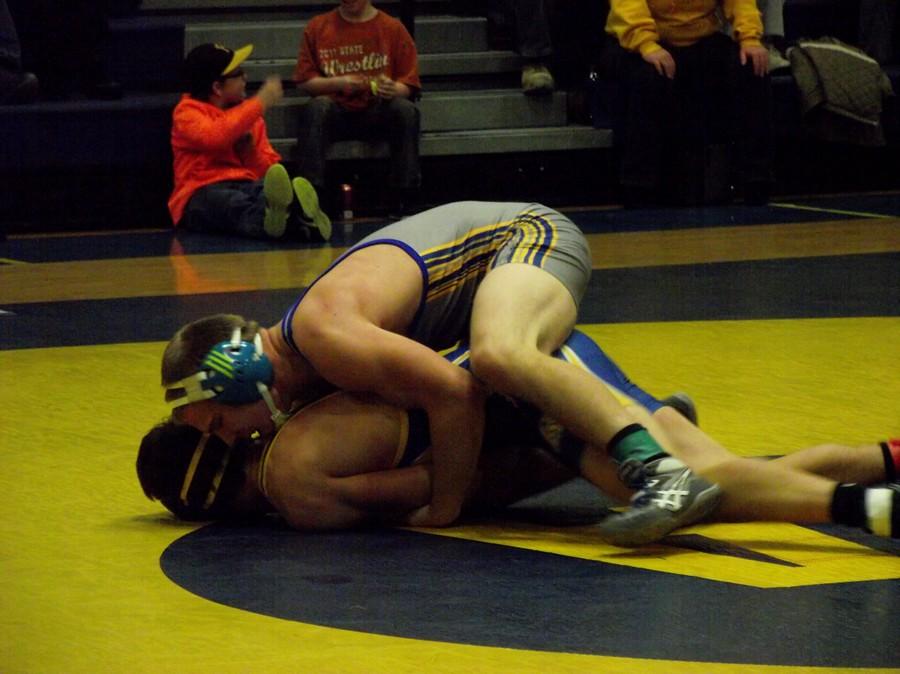 Emily Wagner
The Bellwood-Antis Blue Devils wrestling team showed what they were made of against the Juniata Valley Hornets last night at home, ending a season-long losing streak.
The Blue Devils sure worked their absolute hardest and it paid off with a 34-33 victory.
Seniors Josh Wilson, Caleb Knisely, Zach Mock, and Jeremy Wilson pinned registered pins.
Sophomore Ryan Kerns won by decision with a score of 4-3 and Junior Cameron Nagle won by forfeit.
Senior Max Leskowitz got 2 pins in the exhibition matches.
Junior Nate Claar seemed happy his teams, which had been forfeiting several weight classes  each match this season, had a victory.
He said, "It's about time we won a match on the scoreboard."
The Bellwood-Antis Blue Devil boys' basketball team also had some good luck playing against the Glendale Vikings last night, bringing home a 76-60 victory.
Junior Nathan Davis led the team by scoring 26 points.  Junior Jake Burch helped Davis by scoring 16 points.
Both Davis and Burch seemed excited about getting yet another Blue Devil victory and they seemed to want to continue their winning streak.
Davis said, "It was a great win for us.  We doubled out wins from last year, and I'm pretty sure we just clinched playoffs with it.  If we get this win on Friday, we will be on another 5 game win streak.  Things are clicking pretty well again."
Burch said, "We knew if we could contain their best two players, we would win going away.  It was a big win, and we need to keep our streak going if we want to make a strong run in playoffs."
The boys overall record is now 9-5.