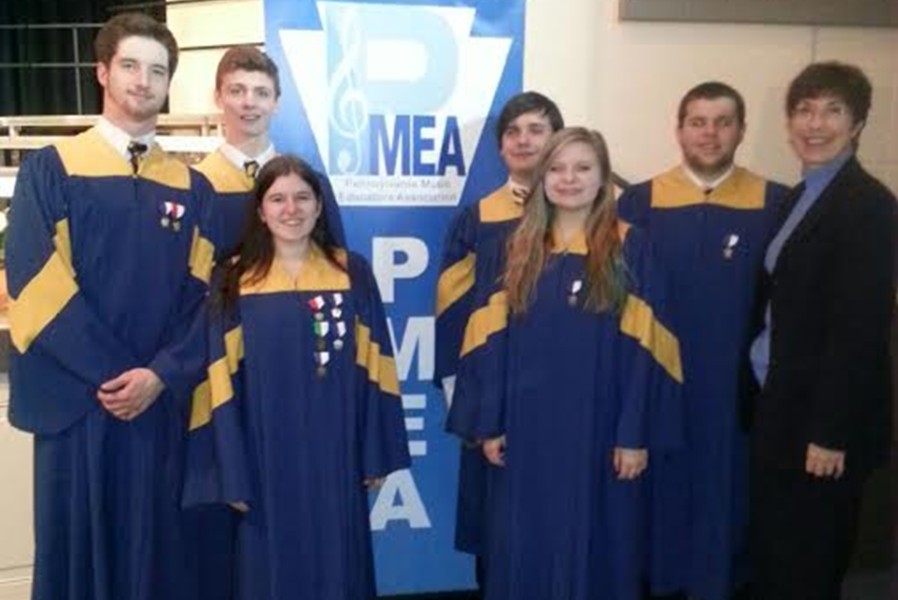 Five B-A students advanced to PMEA Regional chorus with their performance at District chorus January 23 and 24 at Windber High School
Randy Zitterbart, Emily Hoover, Emily Estright, Revel Southwell and Lain Hall all made it to PMEA Regionals, which will be held February 27-28.
Chorus director Ms. Hull is very proud of these students.
"I am exstatic! The kids really deserve it. They are a lot of fun to be around and I enjoy it. They are inspiring to me because they work hard and they don't hesitate for a challenge," said Ms. Hull.
Hoover was shocked that she made Regionals.
"I was surprised they selected me out of 12 chairs," said Hoover. "When they called my name for the last chair I was really surprised! It is kind of scary and intense because it's a whole new step.  The music will be harder,"
There were 36 different schools that attended this festival.
Seven B-A students qualified for Districts.  Along with the Regionals qualifiers were juniors Amanda Albright, and Luke Hollingshead.
District Chorus was a lot of fun for these students.
"I liked the director and the people I was with in the bass section," said junior Luke Hollingshead.
"Over the years, there were some directors who were fun, but this director was more serious. He was really cool and he treated us like musicians," said junior Hoover.
District chorus is a good way to help the students benefit and learn more about the music industry.
"(It's) better than county chorus. The repertoire is more difficult. The level of singers is higher, and the music is difficult. The students get to spend more time together with students from different schools," said Ms. Hull.
"I got the chance to be with talented people. I got a way to gain knowledge on how the music department works," said Hollingshead.