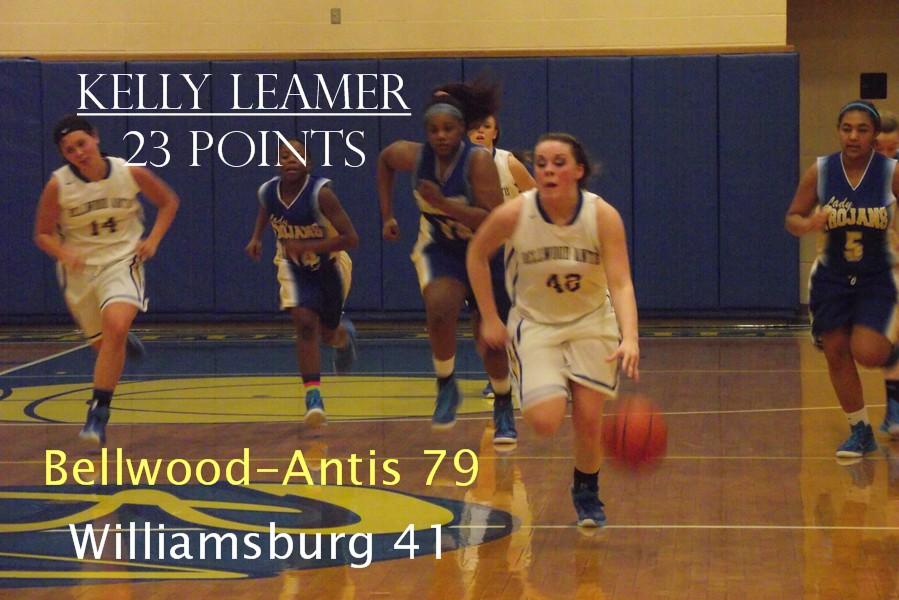 Emily Wagner
Last night the Lady Blue Devils girls' basketball team traveled to Williamsburg to go head to head with the Pirates.
The Lady Blue Devils played a virtuous game and once again came out on top with a 79-41 victory over the Pirates.
Bellwood-Antis's three guard trio racked up some points.
Kelly Leamer led the team with 23 points.  Karson Swogger followed with 16 points and Ana Hollen got 15 points. Anna Lynn also helped with 9 points.
The Lady Blue Devils record is now 18-1 overall.
On Wednesday, Bellwood-Antis's Blue Devil wrestling team traveled to Loysburg to go up against the Northern Bedford Panthers.  The match was originally scheduled for January 6th, but got postponed.
The Blue Devils lost, but managed to grab some points.
BA battled to a 28-24 deficit in the portion of the match that was actually wrestled, and received a forfeit.
Senior Josh Wilson was the first Blue Devil to give the team a place on the scoreboard, winning by disqualification at 145 pounds.
Junior Nate Claar was next to gain some points.  Claar won by a 14-2 major decision at 152 pounds.
Seniors Caleb Knisely and Jeremy Wilson both got pins.
Senior Zach Mock won by a 4-1 decision and junior Cameron Nagle won by a 3-2 decision.
Even though he couldn't wrestle all season, senior Dallas Huff gave B-A some points by getting a forfeit.
Last night the Blue Devil wrestling team traveled to Portage to go up against the Mustangs but suffered a 36-30 loss.
The Blue Devils are now 1-16