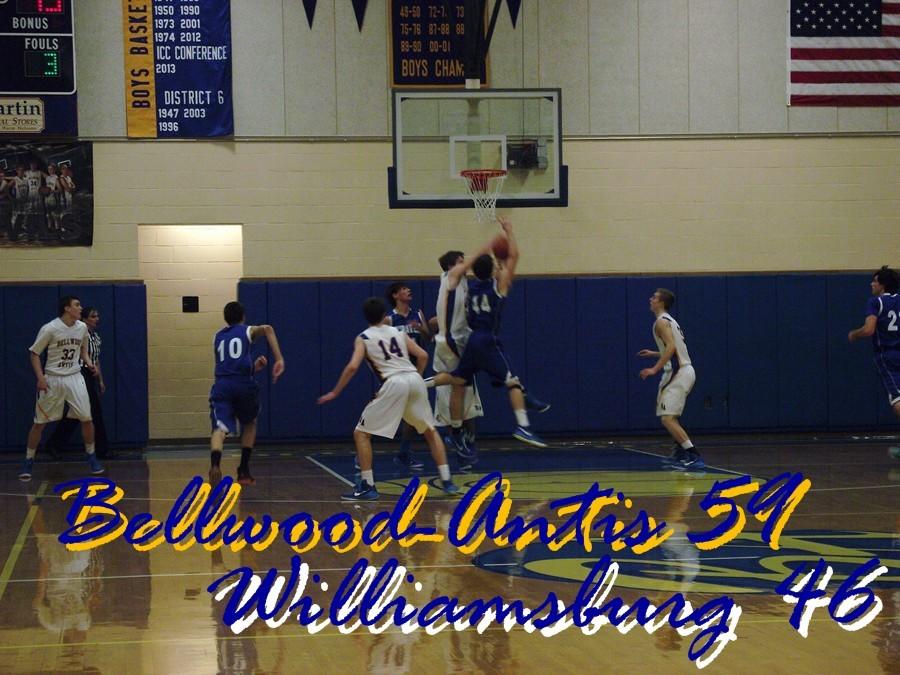 Emily Wagner
The Blue Devils are doing a lot better this season than they did last season, when they had a season record of 5-17.
With a record of 15-5 overall and 12-1 in the ICC, the Blue Devils are now ICC North champions.
The Blue Devils boys' basketball team went head to head with the Williamsburg Blue Pirates Friday night securing the ICC championship despite fans saying they weren't going to make it that far.
The 59-46 victory for the Blue Devils was closer than it might appear.  The boys will now play this weekend at Claysburg-Kimmel High School in the ICC championship game, along with the Lady Devils, who likewise won the ICC North.
Before the game, the seniors were all recognized in honor of senior night.  The two seniors on the team, Tyler Shultz and Julian Setzer, an exchange student from Germany, got a lot of playing time at the game.
Setzer said, "I was really happy playing against Williamsburg, because they have an Italian Exchange Student. Also I think we all were really happy that it worked out with the ICC Championship."
Junior Nathan Davis was once again the lead scorer with 21 points. Junior Jake Burch followed close behind with 12 points and sophomore Joey Padula scored 11.
"We came out on a mission in this game, and we got it done, "said Davis. "It's crazy that we won the ICC. No one thought we could.  We want to finish out the regular season strong, win the league, and make some noise in districts."
Burch agreed: "We have to maintain the same focus this whole week, leading up to the ICC championship Saturday.  This is a big week for us, and we could potentially win the conference if we play like we can."
Ethan McGee also helped by scoring eight points, three of those points being a 3-pointer that was way outside the arc.  Noah D'Angelo scored 5.
"We wanted to come out not and put them away early.  We knew if we jumped on them quick, we could get them to quit early, and they did," said McGee.  "Now we have to finish the season right and win the ICC title."
The Blue Devils had a total of 8 3-point goals; 2 coming from Davis, 2 from Burch, 2 from McGee, 1 from D'Angelo, and 1 from Padula.