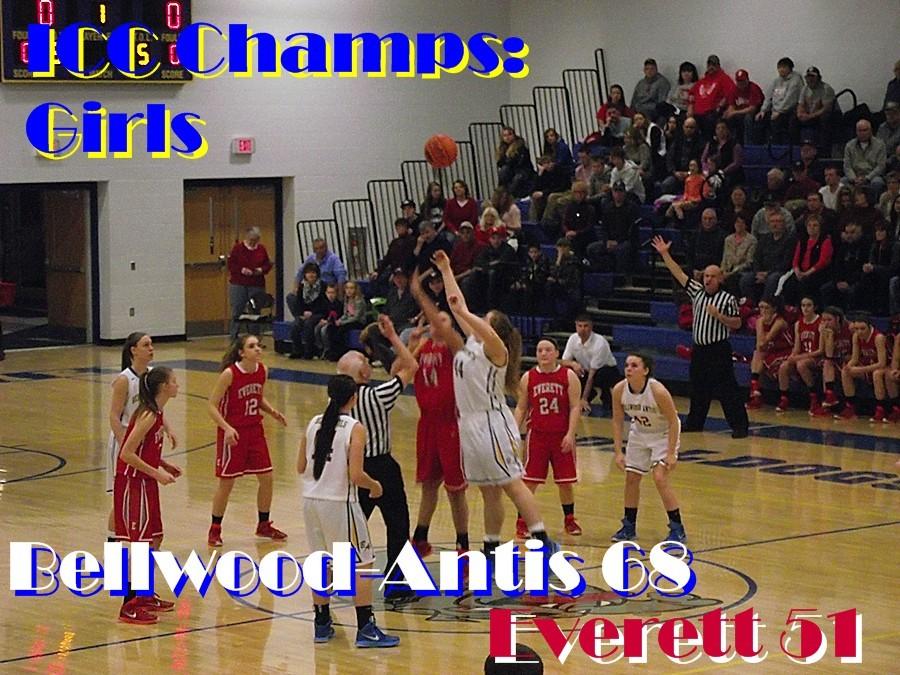 Emily Wagner
The Blue Devils and the Lady Blue Devils played outstanding games in the ICC championships at the Claysburg-Kimmel High School gymnasium on Saturday.
The Lady Blue Devils earned the championshoip game three-peat with a win over Everett, while the boys lost a heart-breaker to Southern Fulton.
The Lady Blue Devils were the up first, facing the Lady Warriors once again.  They were there to make a statement and showed how much they wanted the title and they did it, knocking out Everett 68-51.
Karson Swogger led the team with 25 points.  She also grabbed four rebounds and had three steals.
Kelly Leamer followed close behind with 13 points.  Ana Hollen helped with 12 points and also had six assists, four rebounds, and four steals.
Anna Lynn got another eight points on the scoreboard and Selena Damiano added six on to that.  Lynn also managed to get four steals.
Once again ICC Champions the girls are getting ready to move right through Districts, where they are the No. 2 seed in Class AA and looking to defend their title from 2014.
The Blue Devils weren't as lucky.
The Bellwood-Antis boys played a tough game and led the Southern Fulton Indians for long stretches, but in the end, the Blue Devils suffered a 65-57 loss.
Nathan Davis led the team with 27 points and Jake Burch helped with 19 points.
Despite the loss, BA  was able to bounce back last night with a win in the opening round of the District 6-AA playoffs over Penn Cambria.
The Blue Devils are now 18-6.