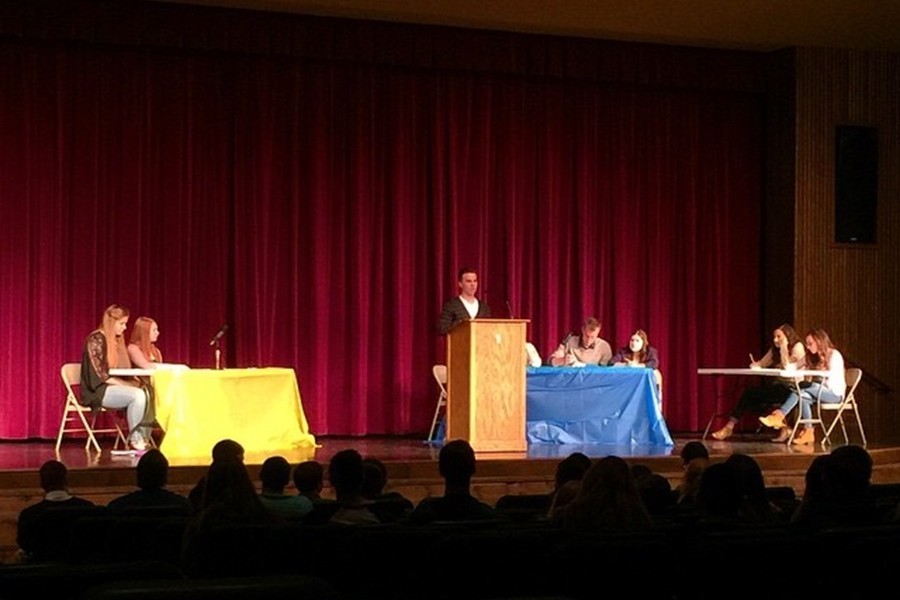 Emily Wagner
College in High School Argument and Rhetoric class participated in the 3rd annual school-wide debates on Monday, February 23.
CHS is an introduction to debate taught through the University of Pittsburgh, and students participate in many debates over the first semester of school on a variety of topics.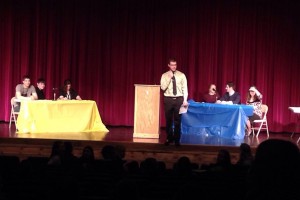 The topics for the school-wide debate this year were:
All Americans have a fair chance to succeed
Hate crime laws make punishments fairer
Americans who receive public assistance money should be subjected to drug testing
In America, the poor have the same opportunity to succeed as the rich
One requirement of the class is for students to participate in a school-wide debate that will be taped and sent to Pitt where debate students and professors judge it. One "all-star" arguer from every school in the program is picked to go to Pittsburgh in May to participate in a state-wide debate.
BA is the only school not from Pittsburgh in the CHS debate program, but other area schools offer CHS courses through Pitt.
The B-A's school-wide debate is run in the auditorium and teachers bring classes down throughout the day to view the arguments.
"We used to do the school wide debates in a classroom in front of one or two other classes," said CHS teacher Mr. Naylor. "But in 2013 we took it in front of the whole school and it's definitely made it better. It creates good tension for the arguers and it shows the school what we're doing in CHS. It also gives young arguers something to aspire to."
This year's debate teams consisted of the following groups:
Topic: Allowing performance enhancing drugs would make professional sports fairer.
Pro: Natalie Dumin, Adam Osborne, Matt McMillin. Con: Ryan Bouslough, Chad Lunesman, Jake Shade
Topic: Hate crime laws make punishments fairer.
Pro: Jeremy Wilson, Chris Foose, Meghan Claar. Con: Anna Wolfe, Randy Zitterbart, Alicia Gathagan
Topic: The poor in America have the same chance to succeed as the rich.
Pro: Salena Damiano, Sarah Whinsickle, Ian Schmoke. Con: Emily Estright, Isaac Mills, and Ana Hollen
Topic: People receiving public assistance funds should be subject to drug tests.
Pro: Alayna Roberts, Rachael Harris, Kelly Leamer/ Zack Mock, Paige Padula, Jaqueline Finn and Josh Wilson