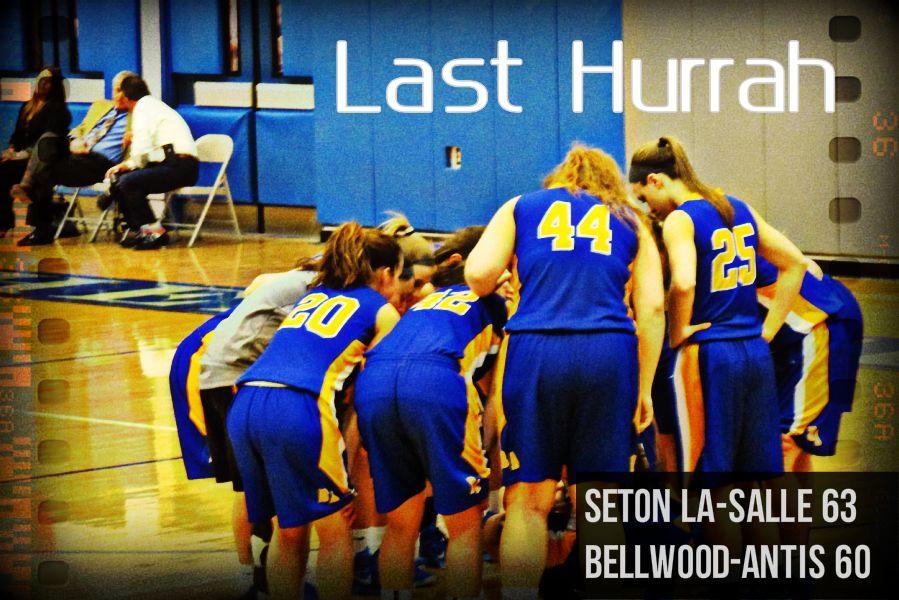 Ethan McGee
Friday was a disappointing and sad night for the Lady Blue Devils as they saw their season come to an end with a 63-60 loss to the Seton-La Salle Lady Rebels at Hempfield Area High School in the PIAA Class AA quarterfinals. .
"It's difficult seeing us come so close to everything we've ever worked for, but it doesn't change everything we've accomplished and all that we've learned," said senior Ana Hollen.
In the beginning the Lady Blue Devils were playing hard.  By the end of the first quarter the Lady Blue Devils were in the lead with a score of 21-13, and sophomore Karson Swogger had 15 points.
During the second quarter, the Lady Blue Devils continued to play hard, but found themselves down by two with a score of 34-32 at the beginning of halftime.
After halftime, the Lady Blue Devils got right back into the game and found and trailed by one point. By the end of the 3rd quarter the score was 46-45.
Halfway through the final quarter, it seemed that Bellwood-Antis would be playing in the PIAA Class AA semifinals on Tuesday, not Seton-La Salle.
With 3:55 the Lady Blue Devils had a lead of 57-50, but the defending state champion Lady Rebels made a big push to go ahead with just over two minutes left.
Hollen had the ball in her hands with the final seconds of the game when they were down by three but missed a contested three-pointer.
"We came up short twice this season in districts and states," said Hollen. "It stinks knowing my fellow seniors and I are done, and I'm going to miss it so much.  Just because we seniors are done doesn't mean our program is.  We have a lot of talent in underclassmen and they will pick up where we left off.  It was a season I will never forget."
The Lady Blue Devils made 8 3-point goals: 6 from Swogger, 1 from Leamer, and another from Hollen.
Karson Swogger finished with a game-high of 31 points and 6 3-pointers.
Hollen finished with a double- double of 15 points and 10 rebounds.
Kelly Leamer added 11 points of her own to the Lady Blue Devil's score.
"It's definitely heartbreaking to see our run in states end as well as the seniors' careers as Lady Blue Devils," said Leamer. "But, regardless, I'm proud of all that we accomplished."
Seniors Hollen, Selena Damiano, Leamer, Anna Lynn, and Meghan Claar saw their basketball careers end at Bellwood.
"The worst part is knowing that we could've beaten them," said Damiano. "It was a great season for my senior year and I'll never forget it."
The Lady Blue Devils won their third straight ICC championship this year despite coming up short against Bishop McCort in overtime of the District 6 championship.
The Lady Blue Devils finished their season with an outstanding overall record of 26-3.