B-A junior going to nationals for HOSA
Jessica Stehley wins first place in Medical Spelling
Opportunities can happen anytime if you're working hard and if you are going for the career that you would really want you could get the opportunities that you need for it.
One way is through HOSA, the Health Occupations which is a program run through the Greater Altoona Career and Technology Center.
Bellwood-Antis junior Jessica Stehley is going to a national competition for HOSA. She will be going to Anaheim, CA this summer (June 23-28).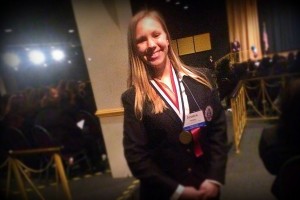 At the HOSA state convention in Lancaster earlier this month, Jessica ended up with first place in the Medical Spelling. It is a spelling bee for students to spell medical terminology. If you spell a word wrong then you lose, and to win you can't spell any of the words wrong.
The last person left wins. She competed with 17 other students.
"I was very excited, and I couldn't believe it at first," Jessica said. "When I went to spell my final word I had to convince myself that it wasn't the winning word so I wouldn't get nervous."
Her winning word was precordial.
The health occupations class teaches students to be a nurse and they could become a nurse aide. It is a class in the student-led organization, HOSA.
"Starting my tenth grade year, I have been given the wonderful opportunity to attend the GACTC in Health Occupations while attending here at BA," said Jessica. "If I had to say anything, it's to be prepared, try your best, and keep a positive attitude. Miracles can happen when you keep trying."