Baseball team suffers its first loss against Tyrone
Blue Devils redeem themselves during second game
The Bellwood-Antis Blue Devil baseball team suffered its first loss of the season Saturday, falling to the Tyrone Golden Eagles in the second game of a two-team double-header. The Blue Devils couldn't keep up with the Eagles as they soared past B-A  5-1.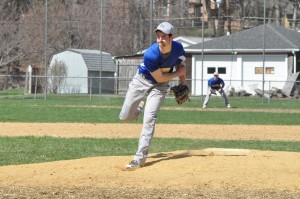 Tyrone's Brian Gunter held B-A hitless for the first four innings when Jordan McCracken and Sawyer Kine each got hits..  The Blue Devils did not get their only run until the sixth inning.
The Blue Devils only RBI was from Chad Luensmann, who singled home Zack Mock to make it 2-1 in the sixth.
The losing pitcher was Randy Zitterbart, who only walked two and had 7 strikeouts.
Zitterbart had an interesting take on the game.  He said, "It wasn't a league game so it doesn't affect us, however, it shows what happens when you lose focus.
"I felt like I pitched a decent game.  I missed a couple clutch opportunities but it still was a good game to watch."
Earlier in the day, the Blue Devils had a major confidence booster against Claysburg-Kimmel, earning a 6-1 victory.
Noah Burns hit a double and Jack Showalter hit a triple.
The Blue Devils took out the Bulldogs early.
Zack Mock, Luensmann, and Jordan McCracken had two hits each for B-A.  Mock also hit a triple.
McCracken also had two doubles and knocked in two runs.
Cory Parson earned a save for the Blue Devils.
Luensmann was the winning pitcher.
The Blue Devils record is now 8-1.
Across town, the Blue Devil softball team showed off their skills in a 14-0 victory over the Golden Eagles at home.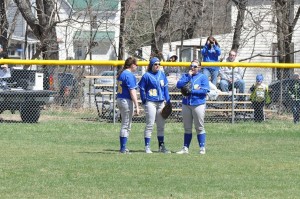 The win made it five in a row for the Lady Blue Devils.
Laycee Clark drove in three runs and had a pair of hits.
The Blue Devils ran nine of their runs in the top of the sixth.
Anna Wolfe, Taylor Shildt, and Maddie Miller each doubled for the Lady Devils.
The Blue Devils started out strong getting two runs in the first inning.
The Blue Devils had six multiple hits: 2 each from Wolfe, Shildt, and Clark.
The Blue Devils had fourteen RBI's: 3 from Clark, 2 from Wolfe and Harris, and one each from Shildt, Miller, Convery, Finn, Showalter, Dennis, and Mamat.
Maddie Miller was the winning pitcher.  She had 4 strikeouts and Shildt had 2.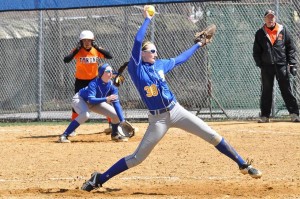 The Blue Devils record is now 6-2.