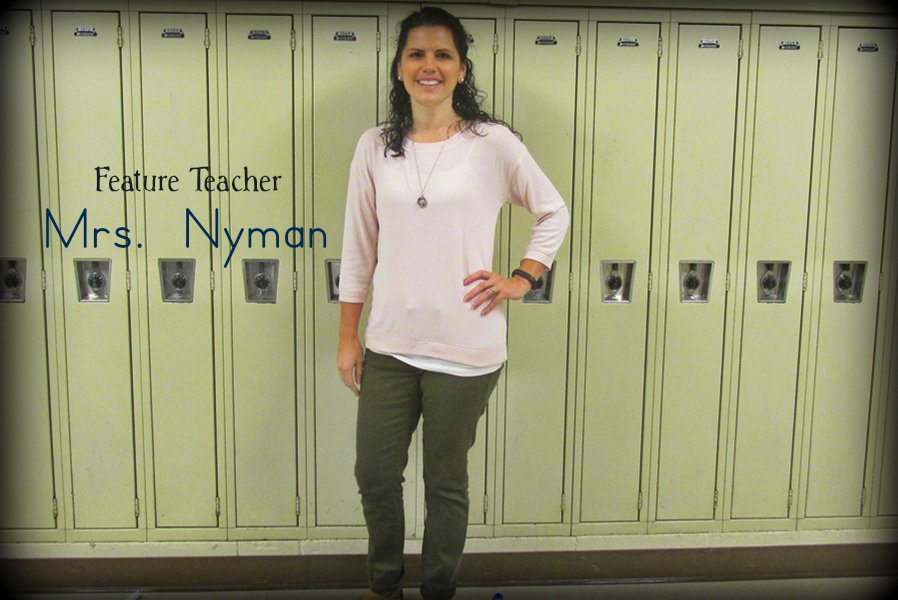 Kayla Kustaborder
The high school feature teacher of the month is Mrs. Nyman.
Mrs. Nyman is the girls Phys Ed teacher and she also teaches health classes.
Mrs. Nyman went to Philipsburg-Osceola High School. After high school, she went to Penn State to get a Bachelor's degree in Kinesiology. After that, she went to Lock Haven to get her Master's degree.
Growing up, Mrs. Nyman had always loved health and fitness.
"When I was 5, I used to play pretend "aerobic classes" with my friends. I always played many sports growing up," said Mrs. Nyman.
She always wanted to teach Health and PE.
Being a gym teacher, you get to allow students to be in many different kinds of activities from flag football to yoga.  Mrs. Nyman likes the variety of activities that both her and Mr. Lovrich offer for students to participate in.
"There is something for everybody. We have football, volleyball, and soccer for students who like sports. There is badminton, walking, Pilates, and yoga for students who like individual activities," said Mrs. Nyman.
Right now, Mrs. Nyman still enjoys being able to exercise.
"Even though I grew up playing sports, I now love walking and doing Pilates, yoga, and strength training for my own fitness," said Mrs. Nyman.
Mrs. Nyman enjoys her job as a gym teacher for a lot of reasons.
"I like that I get to teach what I love an am passionate about. I also enjoy getting to know my students. Since I have all the girls every year, it is so special to watch them change and grow into young women," said Mrs. Nyman.
The best part of being a teacher for Mrs. Nyman is the students and co-workers and being able to enjoy what she does.
"I enjoy my job and that I am able to have fun at work. I think that is very important," said Mrs. Nyman.
The most challenging part of her job trying balance her responsibilities at work with her responsibilities of being a wife and a mother at home.
Most of all, Mrs. Nyman loves being able to teach at Bellwood-Antis.
"Bellwood is a great school district. I couldn't imagine being anywhere else. I like the small size because you get to know everybody. I also like all the activities students have a chance to do. I feel like there is a place for anyone who wants belong to something," said Mrs. Nyman.