#CrookieMonster steals a spot on Pitt team.
2014 grad makes her mark as a Pitt runner
Like anyone going from high school to Division I sports, Ellen Crook had to make some major adjustments, but like everything in her athletic career the adjustment came easily.
Ellen Crook is a 2014 graduate who is now attending the University of Pittsburgh, where she is a member of the track and field and cross country teams.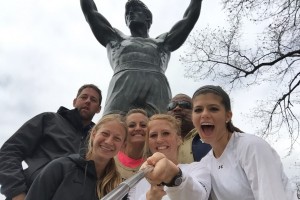 Crook said it was a little difficult adjusting to the new level of competition.
"Your millage a week goes up and the workouts intensify a lot.  The meets are a lot more competitive because every meet feels like a state track meet," said Crook.
As a senior at Bellwood-Antis, Crook set the school cross country record, established records in the 1600 and 3200 and placed fifth in the 1600 at the PIAA championships.
But it wasn't until her senior year that Crook realized Division I running was for her.
"I would say about fall of my senior year," she said. "I was getting offers from small division one schools, but I reached out to Pitt taking a long shot and the coach showed interest."
During her high school career Crook suffered several concussions and injuries that could have completely ended her athletic career, and they did force her to stop playing soccer and basketball.
Crook admitted it was ironic that her injuries led to something she loved -running.
"
I really think that it was God's plan for this to happen to me and I wouldn't change a thing about it."
— Ellen Crook
"I think a lot about where I would be if I didn't have to stop contact sports, and I really think that it was God's plan for this to happen to me and I wouldn't change a thing about it," said Crook.
Crook has made some very proud achievements in her early college career. She competed in the ACC championships in cross country and last month was a member of the 4X1500 meter relay team that set a new Pitt record at the Penn Relays.
"Cross country season was one of the most successful seasons for girls in Pitt history and I was fortunate enough to travel and at times score at the varsity meets and compete in our ACC championship meet," said Crook.  "Indoor track went just about the same for us and I was also able to compete in our championship at Virginia Tech.  I should be able to compete at the championships in Florida (in outdoor track), so fingers crossed."
Distance coach Adam Bray said he though Ellen could be good, but even he is impressed with the kind of season she's having in her first year.
"I was not sure the impact that Ellen would have as a freshman coming in.  However, I did know that she is a very talented athlete," said Bray.  "I thought that it would take Ellen about a year to adjust, but obviously she is proving me wrong by being a contributor right away.  Ellen is a talented athlete and is a very competitive individual.  These two qualities, plus her positive attitude, have allowed Ellen to have a successful freshman year."
If Crook expected anything, she did NOT expect this much success so early on in her college career.
"College is a different ballgame, but I am just trying to work as hard as I am capable of and hope that it pays off in the scheme of things," she said.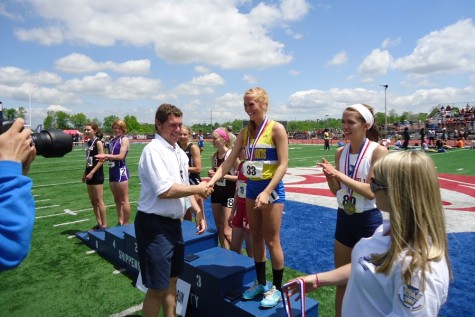 "I am very happy with the way things are going here at Pitt.  I shocked myself with how quickly I was able to transition with the training and everything. I have a lot of great teammates that help push me to improve."
Bray said he's optimistic for Ellen as she continues her career at Pitt.
"I think Ellen will have a tremendous career here," Bray said.  "She is very talented and very new to our sport.  She has some areas that she can improve upon, and she will in time.  I feel very honored to work with individuals like Ellen Crook.  She is a fantastic young woman, and I am very excited to see how far her career will go.  I think it will be much further than many people expected."
Always a fan favorite no matter what the sport at B-A, Ellen said she still misses playing for the Blue and Gold.
"I miss the people and running for Miss R.  Bellwood fans were always so supportive," said Crook.