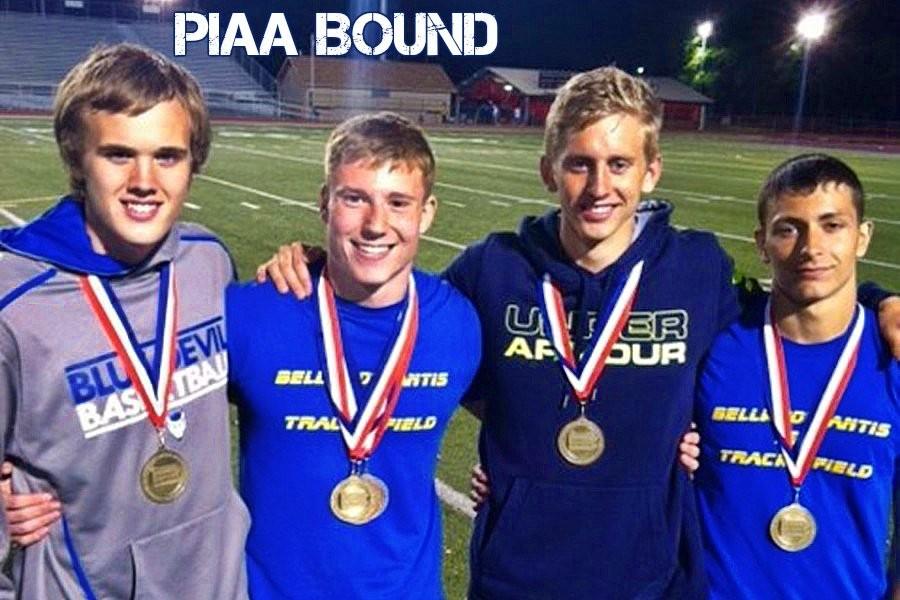 Charlie Burch
Several athletes really stood out at the District 6-AA track & field championship meet at Mansion Park yesterday.
The Blue Devils didn't win team competition, but they had several individuals that really seemed to excel.
In all B-A crowned two individual and one relay champion and sent six athletes to Shippensburg for the PIAA championships.
Freshman Alexis Gerwert set a personal record in pole vault by a foot.  Her gold medal height was 10 feet and 6 inches, more than six inches beyond her nearest competitor.
"It feels great," Alexis said of winning the District title as a freshman. "At the beginning of the year I didn't think I would even make it to Districts, let alone win my event."
Selena Damiano may have not thrown her best in the shot put, but her performance still allowed her to earn a trip to states.
Damiano qualified for the PIAA meet in the shot put, finishing third after entering the event as the top seed.
Damiano won the discus after nearly not making it through the preliminaries. She scratched on her first two throws before making it to the finals, where she pulled ahead of the pack.
"I didn't do as well as I know I could have, so I was upset because I know I could have won that, too," Selena said of the shot put. "I'm happy I still get to go to states, though."
One of the Blair County Outstanding Performer Awards went to Damiano, while another went to Kyler Lardieri.
Marissa Panasiti placed 6th in in 400 dash with a time of 1:03.13.
The Bellwood-Antis boys track team stood out as well, placing fourth overall.
The only gold medal of the day for the Blue Devils came in the last event which was the four-by-400 relay.  The team of Jake Burch, Matt McMillan, Nathan Davis, and Kyler Lardieri placed first with a time of 3:32.42.Matt McMillan placed second in 42.05 in the 300 hurdles, punching a ticket to states.
Davis placed 8th in the 200 dash and 4th in the 400 dash.
Lardieri placed 6th in the 400 dash.
Derek Swope placed 4th in the 110 hurdles.