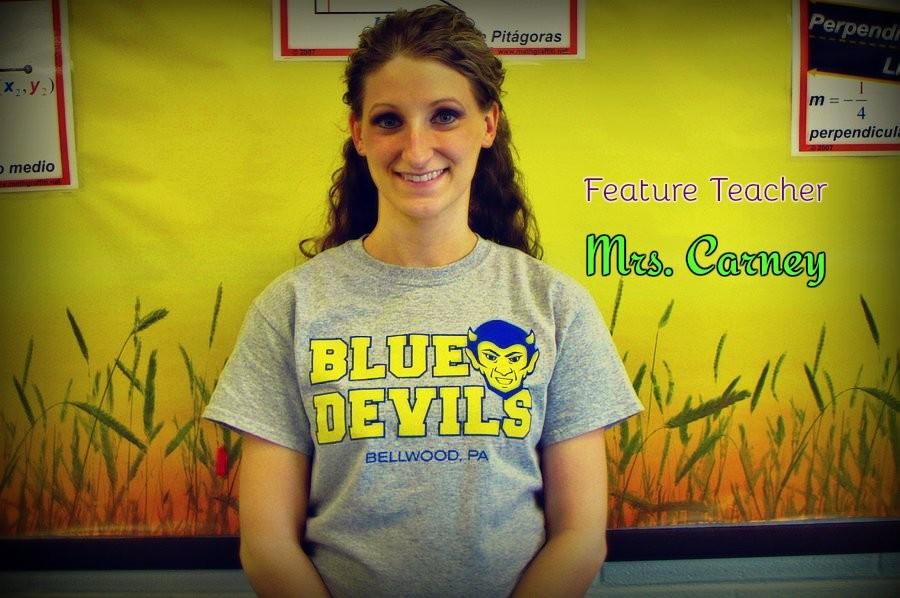 Jasmine McCoy
Mrs. Carney is a caring, lively, and successful individual. She is one of the many math teachers here at Bellwood-Antis High School, and she is our teacher feature for this month.
Mrs. Carney teaches all different levels of mathematics including algebra 1A, algebra 1B, algebra 2, and geometry. She also teaches all different grade levels ranging from ninth grade to twelfth grade.
She received her high school diploma from Bishop Guilfoyle in Altoona, and continued her education at Saint Francis University (SFU). She loves to take care of her pets and spending time with her family. When she was younger, she used to love riding her bike, roller blading, doing ballet, and Tae-Kwon-Do.
Mrs. Carney wanted to become a teacher because, like most other teachers, she was impacted by a teacher that she had in school.
"I like working with people and helping them. I have had caring and understanding teachers that have inspired me to want to do the same for others," she said.
She loves all sorts of things about teaching, most notably "getting to be a part of so many people's lives, helping students be successful, and seeing students mature into graduates."
Whether you love math or hate math, Mrs. Carney is always there to help you with whatever it is you're having trouble with. Not understanding your homework? Just bring it to her and she will gladly answer your questions. She has a real talent for explaining certain methods in different ways to assist in the understanding of the concept. She says, "Just because you hate math doesn't mean you can't learn it. Math is exercise for your brain."
While it seems like there's a national dislike for math class among students for some reason, this does not go for Mrs. Carney. She said, "I have always been good at it and I was always able to explain it to my peers. I like the challenge."
Mrs. Carney also likes the Bellwood community, and for many different reasons.
"Bellwood is close to where I live (Altoona). I didn't want to move away," she said.  "Bellwood is a small community where everyone knows each other, so it reminded me of BG. I just love how supportive everyone is."
If there are any teachers you need to thank, Mrs. Carney is definitely one of them. She dedicates her time and knowledge to help students do the best they can and be the best she knows they can be.