Aevidum raises suicide awareness
Club plans several activities for the month of September
September is National Suicide Prevention Month. The Bellwood-Antis Middle and High School will be participating in activities to raise awareness of Suicide Prevention starting on Wednesday, September 16 and ending on Sunday, September 27.
The Aevidum Club is asking everyone to wear the colors purple and turquoise on Wednesday, September 16. These colors symbolize awareness and prevention of suicide.
"Aevidum Club is a great cause and a very good support group! We all need people to look out of us," said by Cathy Adams, Vice Principal and Aevidum advisor.
For all BASD employees, there will be a "Jeans Day" on Wednesday, September 23. A small donation of $5 can be given to your office secretary. The money raised will be donated to the Out of the Darkness foundation.
Also on September 23 there will be an activity where everyone is asked to wear a t-shirt with a positive quote on it.
To close out the activities the Aevidum Club will participate in the Out of the Darkness walk, held at the Mansion Park on Saturday, September 27.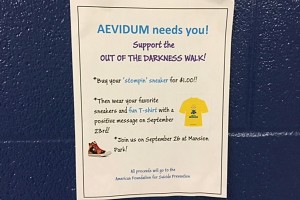 According to the World Health Organization, nearly 3,000 people, on average, commit suicide daily. About one million people die by suicide each year.
That is why there are groups like the Aevidum Club.  Aevidum aims to spread suicide awareness and prevention. Educating adults and students is key.
"Suicide is a permanent solution to a temporary problem and there is always someone there willing to help you," said Mr. Matt McNaul, Aevidum advisor and Civics teacher.