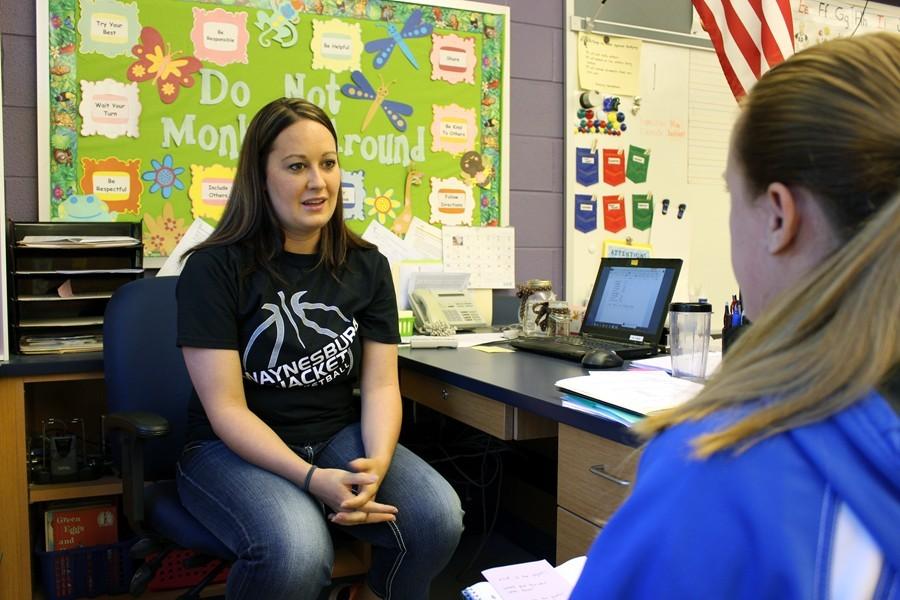 Ali Wagner
The Myers Elementary School is having a fundraiser to support Stockings for the Troops!
Every year around October and November, teachers and students collect non-perishables items, for instance, chap sticks, toothpaste, or gum.  These items are stuffed into stockings and then mailed out all over the globe to troops who can't be home for Christmas.
"It is important for the elementary school to be involved in community service projects like this because it is good for the kids to give back," said elementary school teacher, Kyley Longo-McGarvey.
The unique charity project started as an answer to a simple problem: what should Myers teachers wear to school on Halloween instead of searching for a costume? Teachers wanted to come up with an idea where they didn't have to worry about buying costumes to dress up for the Halloween parade.
What about t-shirts?  They could still look unified and also, help raise money for the troops. This is where Mrs. Longo-McGarvey went to work.
"I was just sitting at my desk yesterday and thought we should do it," she said.  "Last year, we were all at the Halloween parade and it is hard as an adult to find a costume.  It is a little easier for kids.  We were trying to find something a little easier that would be doable for us so I thought lets have t-shirts that say, "Boo Devils," instead of "Blue Devils.""
Next came finding a way to make the idea work as a charitable opportunity.
Mrs. Longo-McGarvey reached out to a company called Costume Inc. to order t-shirts.  They went on to connect her to a company called Pair Up.  Pair Up lets you choose a sponsor, (Stockings for the Troops) and create a page on Facebook.  People are asked to complete six simple tasks.  For instance, "Like" the page or send out a tweet for the page.
"For every person that completes these tasks, we get five dollars for our project.  We are using the money to buy t-shirts and charging teachers ten dollars.  We will probably donate six or seven dollars per shirt sold to Stockings for the Troops".
The goal for this project is to try and raise $260.  So far teachers have bought 40 t-shirts.  Mrs. Longo-McGarvey hopes to sell 50-55.  This money can be given directly to Mrs. Terry Harpster, the Myers Elementary School principal.
The money raised can be used to buy items to fill up the stockings, shipping the stockings, or to buy the stockings themselves.
Mrs. Longo-McGarvey said it's a great way to embody the Christmas spirit.
"Just yesterday, I was talking to my kids about the difference between being selfish and selfless.  Especially little kids, they think of Christmas and think get, get, get, instead of give, give, give.  I think it is important for them to see that you can be just as happy giving as you can be receiving."