Blue Devils win fifth straight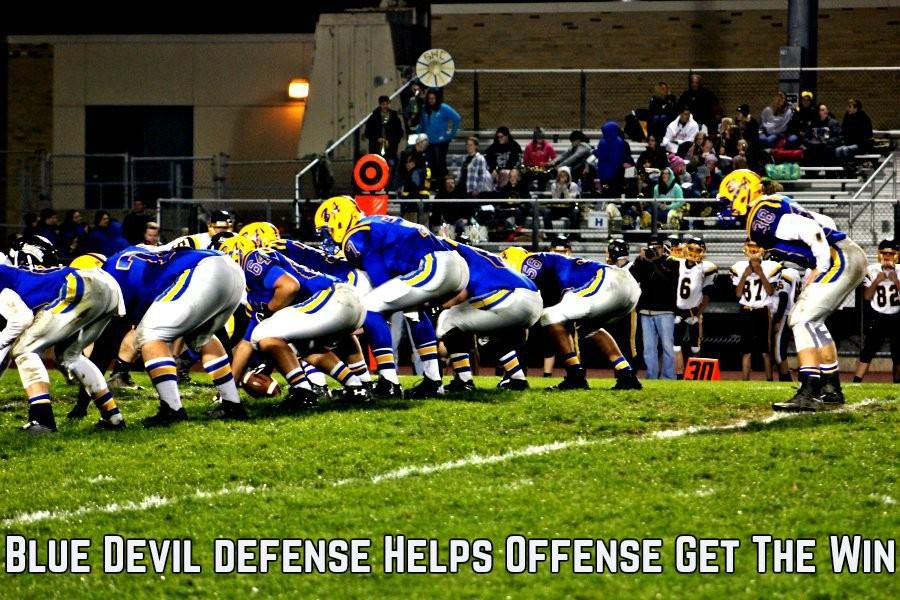 The Bellwood-Antis defense dominated the game Friday night recovering a fumble and intercepting the ball twice as they defeated Sothern Huntingdon 21-7.
Bellwood-Antis has now won five straight games making them 5-2 overall. They lead the ICC Gold Division with a 4-0 record.
The Blue Devils started on offense and scored first for the third week in a row. Junior Ryan Moore caught a 9-yard pass from junior quarterback Jarrett Taneyhill. Brendan Kowalski had the point after making it 7-0 with 3:28 left in the first quarter.
"
We did a better job of running the ball consistently up the middle because the offensive line got off the ball."
— Jake McCaulley
The defense took over after the touchdown, holding the Rockets and capitalizing on a bad snap. Senior Zachary Taylor recovered the Southern Huntingdon fumble and ran it to the Bellwood 40 yard line setting up the second touchdown drive.
The Blue Devils made their way down field and then got the ball to Senior Jake Burch who rushed for 72 yards, and scored on a 7-yard run that made the score 13-0. The point after went wide leaving the Blue Devils ahead by 13 with a little over eight minutes left in the first half.
"We did a better job of running the ball consistently up the middle because the offensive line got off the ball," said senior Jake McCaulley
The Rockets needed to score on their next drive to stay in the game, but the Blue Devil defense didn't let that happen. Quarterback Nick Carowick, who didn't complete a pass on Friday night, looked to pass downfield, but was intercepted by junior Brendan Kowalski. Kowalski ran the ball to the Southern Huntingdon 37-yard line before he was brought down.
"Brendan Kowalski had a nice interception that stopped Southern Huntingdon's momentum," said McCaulley.
The interception set B-A up for their third and final touchdown drive.
In just three plays the Blue Devils made it back to the end zone, scoring on a 7 yard pass from Jarrett Taneyhill to Zachary Taylor. Taneyhill then completed another pass to Taylor for the two point conversion to put the Blue Devils ahead 21-0.
"Our passing stayed consistent with Jarrett at quarterback and Jake at tailback," said McCaulley
With just under seven minutes left in the first half Southern Huntingdon found the end zone when Tyler Carowick ran 58 yards for a touchdown. The point after was good making it a 21-7 game heading into halftime.
In the second half the Blue Devil defense held Southern Huntingdon with junior Ethan McGee tallying an interception. After allowing 28 points in Week 4 against Juniata Valley, Bellwood-Antis has now allowed 16, 12, and 7 in consecutive weeks.
Bellwood will look to win six straight next week when the host Northern Bedford on Senior Night.