Renovate or Recreate?
Beaver Stadium tradition could be ending.
Beaver Stadium, which was built in 1960, is part of a Penn State tradition that is near and dear to many graduates' hearts, but could that tradition be ending?
Over the past several years Beaver Stadium has undergone many changes, the biggest of which came in 2001 when Penn State added 12,000 seats, making it the second largest college football stadium.  The stadium now has seats for 106,572 fans, but with the needed renovations that number could be dropping.
So the question raised is: Renovate or replace? Officials at the university, which is a popular choice among B-A grads, discussed both recently.
Renovating is the preferred option by many alumni, but in the long run replacing the entire stadium might be the better option.  Replacing Beaver Stadium, however, would mean the end of a long tradition for many alumni, some of whom teach at Bellwood-Antis.
"Renovations, updates, even expansion will always be necessary to keep up with the times, but maintaining the current stadium is part of maintaining the traditions of my Alma Mater," said Patrick Sachse, the high school band director and a Penn State graduate.
Beaver Stadium is a huge part of PSU students' lives and many of those students make memories there that will last a life time. Whether it be the iconic student section, the white out, or even Nittanyville, memories from Beaver Stadium last forever.
Mr. Brent Hughes, a 2007 graduate of Penn State and a Physical Education teacher at Bellwood-Antis, had many memories from historic games he watched at Beaver Stadium.
"I watched Penn State beat Ohio State in 2005, watched Penn State win the Big 10 Championship against Michigan State, and watched Joe Paterno's 409th win versus Illinois in 2011," he said.
Not all memories are made during your time as a student, however.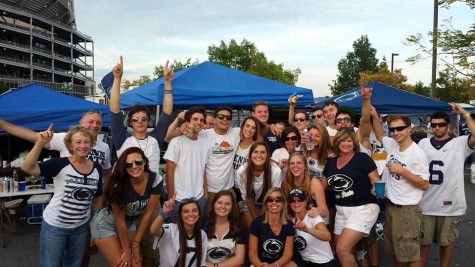 "As a State Police officer I was asked to clear the field after the 2005 Ohio State game," said Timothy Mercer, a 1984 graduate of Bellwood-Antis. "Penn State won at the end and students broke the railing and stormed the field and overwhelmed local police forces. We (the state police) were waiting outside the stadium in case it happened and when I got the call 30 troopers and myself lined up on the 10-yard line and cleared the students out the South Entrance."
Not only is Beaver Stadium a place full of memories, but it is one of the many iconic landmarks in State College.
Mr. Sachse also added, "I would feel very uncomfortable to be driving along the highway and not see the same iconic silhouette I've seen for decades."
"
I would feel uncomfortable to not see the same iconic silhouette I've seen for decades."
— Mr. Sachse
The Penn State Athletic Department has made it clear that renovating is the preferred option, but the public won't know the final decision until July of 2016.
According to Onward State, Sandy Barbour, the Penn State athletic director said, "Nobody's trying to either renovate Beaver or build a new stadium just to be doing it.  There's a recognized need.  I've not run into anybody that doesn't recognize that need."
Either way, finances will play a big role in the decision.
Former Bellwood-Antis guidance counselor and Blue Band member Mr. Jim Rumbarger said, "I feel the football program is still recovering from the scandal they experienced just a few years ago. Can planners anticipate how successful and stable the program will be in the coming years?"
iiPR0T0C0Lii/YouTube
Mr. Hughes added, "I think it would be a waste of money to rebuild the stadium.  A major renovation project would be much more financially responsible.
"They need to figure out a way to transform an old, outdated structure into something state of the art and exciting for the fan base.  I don't think they'll need to start from scratch to do that."
Beaver Stadium isn't the only venue that could possibly get renovated within the next 10 years.  Although it would be the biggest project, there will also be renovations to Jeffrey Field, home of the men's and women's soccer teams, and to the McCoy Natatorium, home of the men's and women's diving and swimming teams.
"I would be quite surprised if they were seriously considering rebuilding Beaver Stadium. It really wasn't all that long ago that they put a lot of money into making the additions onto the stadium," said Mr. Rumbarger