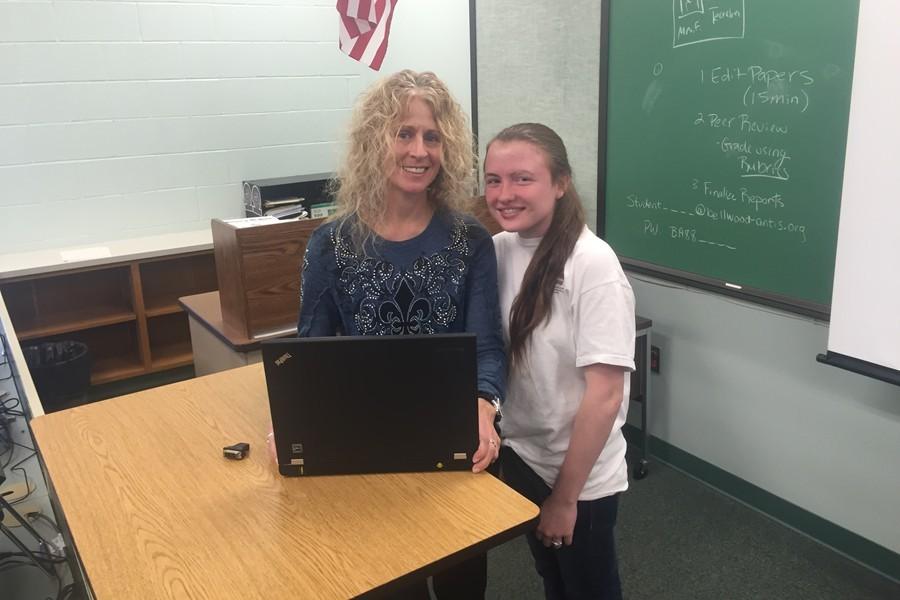 Jarrett Taneyhill
Two people that have formed a close relationship at Bellwood-Antis High School are freshman Aubree Reiter and high school teacher Ms. Jamie Forshey.  The two share a love for technology and blogging.
The pair has won awards in the past for their blogs, and they can win again with just a little bit of support from the Bellwood-Antis community.
Ms. Forshey's and Aubree's blogs have both been nominated for awards.  With that being said, the contest is won by receiving the most votes, and that is where these two need your help.
To vote for Aubree and Ms. Forshey, follow these directions:
To vote click here.
Click under "Best student blog" and click simplyaubree.edublogs.org. This will give Aubree a vote.
Then, under "Best edtech / resource sharing blog" , "Best individual blog", and "Best teacher" select edutech4teachers.edublogs.org to vote for Ms. Forsheys blog.
Be sure to submit your votes by selecting the orange "Vote!" button.
Try to do this every day as you can submit one vote a day up until Wednesday, December 16.
Now let's learn a little bit more about these two and their blogs.
Aubree has been blogging since the summer of 2013, saying, "Ms. Forshey wanted me to do something over summer to keep me entertained.  It turned out that I like blogging."
She said that she likes blogging because she likes to free write, and she is good at it, too.  Last year, she was nominated for the best student blog and won the award.
She also says that she enjoys putting out content for people.  With about 70 people visiting her page a day, it is also safe to say that she has succeeded at that.
To learn about Ms. Forshey's blog click here.
Now that you know more about these two and their blogs, be sure to vote once a day to help them win awards that would mean very much to them.