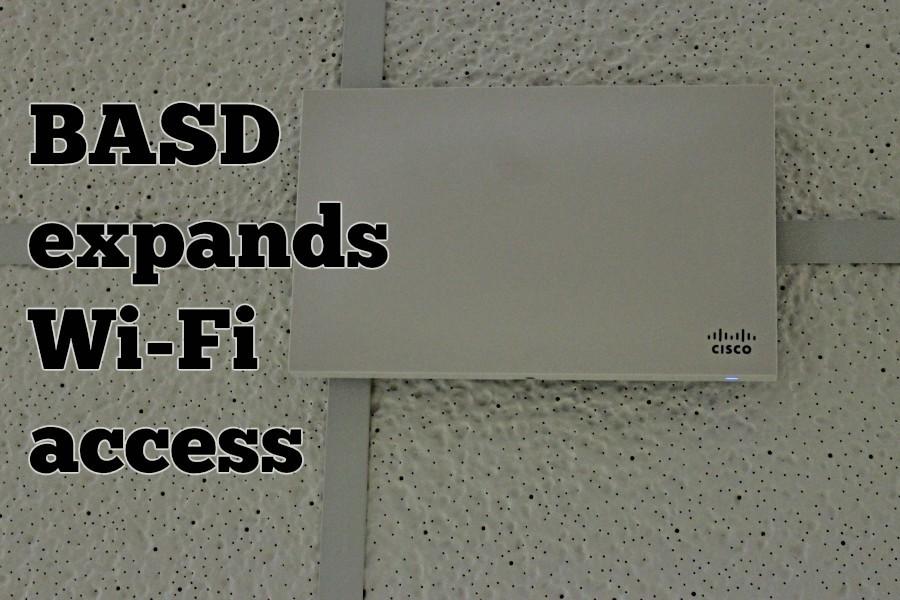 Nathan Davis
Well, the wait is over. The long awaited WiFi system at BASD is now up and running.  It's certainly been a long process, starting all the way back in early fall.
The plan is for the system to expand student access to the internet and even bring the anticipated Being Your Own Device (BYOD).
However, there's still work to be done. District Technology Coordinator Mike Lingenfelter and District Technologist Jason Corle are in the process of completing the installation of new access points, which provide more places from which to transmit a WiFi signal.
Many students are eager to try out the new system, and they think it will be beneficial to the student body as a whole. Junior Jarrett Taneyhill believes this could increase learning in the classroom.
"Hopefully it speeds up the laptops when we use them in classrooms," he said. "That way there won't be as much lag time and we can get more accomplished."
Mr. Lingenfelter explained that a BYOD plan may be on its way.
"We are gearing towards something like that right now actually," Lingenfelter said. "This new system is exactly what we need to make it happen.
"The old access points met needs for what was originally needed; the three C's: Communicate, Collaborate, and Create," he elaborated. "The new wireless system is now a much broader thing, so it requires a lot more access points."
Mr. Lingenfelter says that these access points have a stronger range and could connect to a greater number of people and devices.
"Each access point will easily be able cover up to thirty people/devices," he explained. "This is something that our old system couldn't accomplish."
"Jason(Corle) and myself have been able to install these access points in rooms pretty efficiently," Mr. Ligenfelter said. "We've been fortunate enough that we haven't had to disrupt classrooms in order to install them."
The funny thing about the system being put up is that not everybody even knows about it yet. When asked why this is, Mr. Ligenfelter explained that that is the final step of the process.
"We don't want to advertise until we're ready," he elaborated. "When we have all the pieces in place we will tell everyone."
Senior Hannah Klesius believes that the new system will be most useful for students at after school activities.
"If someone goes to a game, concert, or any other activity in the school after school, they will have access to this internet," Hannah included.
Senior Caroline Showalter brought up something that may have to be dealt with in the near future.
"Honestly, students can't really benefit from the new system yet," she explained. "We aren't allowed to have our phones on us."
What Showalter is referring to is a change in school policy that would allow students to bring their Phones, Tablets, IPods, etc. to school.